If you will be celebrating the Easter Holiday this year and are in need of a few last minute ideas on what to make, I have put together a few Easter brunch menu ideas that would be a welcome addition to the traditional foods you may already serve.
Easter can be a relaxing holiday and I hope you enjoy some of my favorite recipes and incorporate at least one of them into your dinner or brunch plans. If you need help planning a brunch party, check out some of my favorite tips here.
Aside from eating the ears off of chocolate bunnies and malted milk ball speckled eggs (my personal favorite) you are probably going to want something a bit more substantial if you are having guests this weekend. I have collected up a few of my favorite main dishes and brunch recipes below. There are also a few Easter brunch menu ideas for fruits and coffee cake.
*This post may have affiliate links, which means I may receive a small commission if you choose to purchase through links I provide (at no extra cost to you). Thank you for supporting the work I put into this site!
A brunch or breakfast casserole is a nice easy choice because you can make them ahead the night before and bake them in the morning. That means not having to mess up your entire kitchen for breakfast or brunch.
The breakfast casseroles listed below are favorites of mine because they do not use bread in them and instead use hash browns for the filling. I find this to be a more satisfying brunch food than many of the breakfast casseroles that use a lot of bread.
Easter Brunch Menu Recipe Ideas
Fetch Rewards Referral Code: MXUXX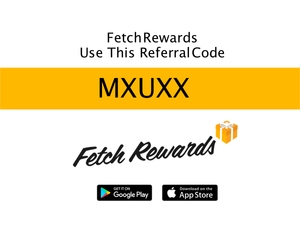 Are you ready to save money on your grocery bill and earn gift cards from your efforts? Use my
Fetch Rewards Referral Code MXUXX
and get 2,000 points. It's a free app that turns grocery receipts into rewards.
Click here to read my Fetch Rewards review on how it works.
Just scan any grocery or gasoline receipt, and earn points towards awesome rewards. You'll earn on all matched brands and products and gain access to exclusive offers that earn you even more points. No more entering codes, completing tasks or jumping through any hoops! Just scan your grocery receipt, and get rewarded.
Click here to download the FetchRewards app.
Use my Fetch Rewards Referral Code: MXUXX
You can find more money saving referral codes here:
Referral Code Master List
Bacon Cheddar Quiche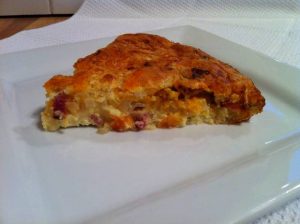 This is one of my favorite quiche recipes and even my son likes it too. It is simple with bacon and cheddar cheese and of course eggs.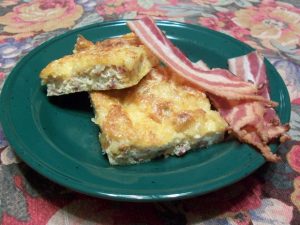 Baked Egg Casserole This recipe is somewhat similar to the quiche above, but you make it in a casserole dish and it uses Swiss cheese along with fried bacon and eggs.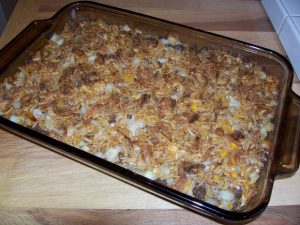 Hash Brown Casserole This can be served for dinner or brunch. It uses ground beef, hash browns, cheddar cheese and it topped with French fried onions for added crunch.
Sausage Breakfast Casserole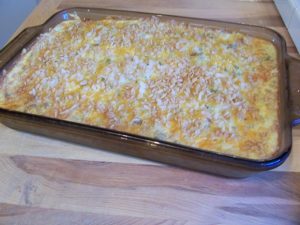 A breakfast casserole recipe made with Italian sausage, onion, rice, Rice Krispies and eggs.
Serve this dish for a hearty breakfast or brunch. A nice alternative for those who do not care for ham.
Ham Glaze: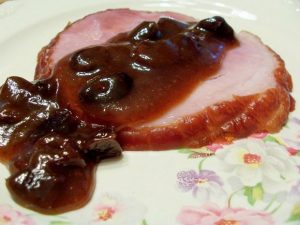 Serve this glaze over your favorite spiral smoked ham or ham steaks for Easter dinner or brunch.
This ham glaze is a rich sauce with raisins, pineapple juice, cherries, and flavored with spices like cloves, nutmeg, ginger, and allspice.
Browned Butter Potatoes: These potatoes are special because the potatoes are boiled in a beef broth and then coated with a foamy browned butter and parsley. The browned butter turns a deep caramel color and gives these potatoes a very distinctive flavor. I highly recommend this recipe!
Fried Potatoes and Ham:
  Buttery potatoes with diced ham make a hearty side dish.
You won't have many leftovers of this dish!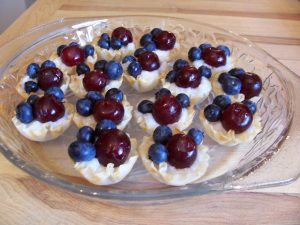 Mini Fruit Tarts A recipe for fruit tarts using mini pastry shells, vanilla coconut filling, and topped with fresh summer fruits of blueberries and cherries.
Serve this fruit recipe for breakfast or as part of an Easter brunch menu.
Peaches and Cream Coffeecake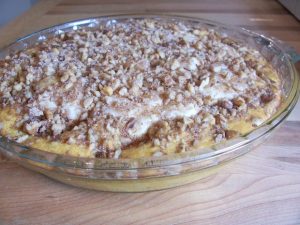 :  Oh, this one is good! Vanilla pudding, peaches, and cream cheese go into this recipe. It is topped with cinnamon and sugar. Watch this one disappear fast!
Classic Brunch Menus
More Easter Brunch Menu Ideas
Brunch Recipe Ideas For A Crowd
Ten Fun Brunch Recipes and Menu Ideas
Tea Party Treats
Save