Mothers Day brunch ideas featuring cream cheese scrambled eggs, blueberry cream cheese muffins, broiled grapefruit and a mimosa.
Treat your mom to a special breakfast or brunch with these easy recipes.
*This post may have affiliate links, which means I may receive a small commission if you choose to purchase through links I provide (at no extra cost to you). Thank you for supporting the work I put into this site!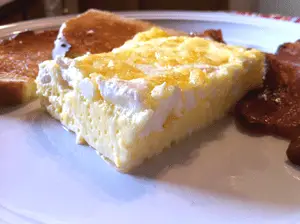 Start your brunch menu with these cream cheese scrambled eggs that are baked in the oven with milk, butter, and cream cheese.
They are quick and easy to prepare and makes enough to feed the entire family.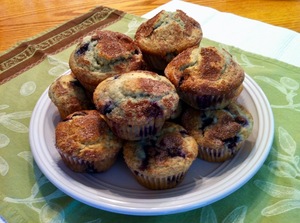 Serve them with a delicious blueberry muffin made with cream cheese, eggs, and heavy cream, which gives the muffins a moist, creamy texture.
These muffins also have a cinnamon sugar topping that makes them extra special.
Broiled grapefruit as a fruit side dish is made with pink grapefruit and topped with brown sugar, cinnamon and a Maraschino cherry.
Served warm, it is a refreshing change of pace from the standard fruits for breakfast and makes for a nice brunch idea.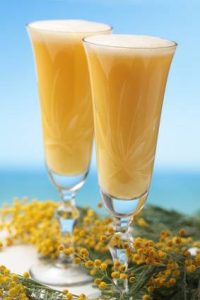 Finish your menu for mom with a simple Mimosa Recipe made from Champagne and orange juice and a splash of Grand Marnier Liqueur.
This is good brunch food to prepare, as the whole family can enjoy it and the recipes are relatively simple so that only a reasonable amount of cooking experience is necessary to treat mom a bit special that day.
---
Mothers Day Brunch Ideas
Cream Cheese Scrambled Eggs
Blueberry Cream Cheese Muffins
Broiled Grapefruit
Mimosa
Good Black Coffee or Tea
This menu serves 4-6 persons.
Try these brunch menus also:
Traditional Brunch Menu with Waffles
Summer Brunch
Easter Brunch Menu
Holiday Brunch Menu
Mother's Day Brunch Menu
Tea Party Planning Tips
---
To prepare this Mothers Day brunch menu:
Make the muffins earlier in the morning, then bake the scrambled eggs. When you are about 20 minutes to serving, broil the grapefruit and make the mimosas.
Shopping List
Cream Cheese Scrambled Eggs (click link for full instructions)
9 eggs
1/2 cup + 1/3 cup milk
1 teaspoon salt
1/4-cup butter (1/2 stick)
2 oz. cream cheese
Blueberry Cream Cheese Muffins (click link for full instructions)
4 oz. softened cream cheese
fresh lemon juice
vanilla extract
2 eggs
1/2 cup heavy cream (can also use whole milk)
4 Tablespoons butter, melted
2 cups flour
3/4-cup of granulated sugar
1-1/2 teaspoons of baking powder
1/2 teaspoon of baking soda
1/8 teaspoon salt
1-1/4 cup blueberries (fresh or frozen)
Broiled Grapefruit Recipe (click link for full instructions)
2 pink grapefruit
1/3 cup brown sugar
1/2 teaspoon ground cinnamon
4 Maraschino Cherries
Mimosa (click link for full instructions)
Small bottle of Champagne
Quart of Orange Juice
Grand Marnier liqueur
Classic Brunch Menus
More Brunch Ideas
Brunch Recipe Ideas For A Crowd
Ten Fun Brunch Recipes and Menu Ideas
Tea Party Treats
Save
Save
Save