A broiled grapefruit recipe made with pink grapefruit and topped with brown sugar, cinnamon and a Maraschino cherry. Serve as part of a healthy breakfast or brunch menu.
I love grapefruit! But sometimes when it is out of season, it can be quite bitter. Living in the Northern U.S. grapefruit is unfortunately not one of the locally grown crops. So, for us around here, it can be a little bit hit and miss when it comes to citrus fruits.
Not all grapefruit needs to be sour and hard to eat. Broiled grapefruit served warm with a bit of caramelized brown sugar and cinnamon can be a refreshing change from cold cereal. This is quick and easy to prepare and makes 4 servings.
*This post may have affiliate links, which means I may receive a small commission if you choose to purchase through links I provide (at no extra cost to you). Thank you for supporting the work I put into this site!
If you want to make this a bit healthier, you could substitute a product called sucanat as a nice organic alternative to the brown sugar and replace the cherry with a soft date or other dried fruit.
Previous Comments
"Yes, we will make this one tomorrow!" – Ralph W. via FB
Broiled Grapefruit Recipe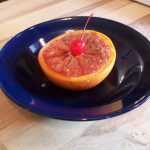 Print Recipe
Broiled Grapefruit Recipe
A broiled grapefruit recipe made with pink grapefruit and topped with brown sugar, cinnamon and a Maraschino cherry.
Ingredients
2

pink grapefruit

1/3

cup

brown sugar

1/2

teaspoon

ground cinnamon

4

Maraschino Cherries
Instructions
Step 1: Slice the grapefruit in half and remove seeds. With a small thin flexible paring knife or grapefruit, carefully cut around all 3 edges of each section to loosen the fruit. (Do this step before the grapefruit goes under the broiler, as the fruit will be too hot afterwards.)

Step 2: In a small bowl, mix the brown sugar and cinnamon and spoon this mixture on top of each of the grapefruit halves.

Step 3: Place the four sections on a baking sheet or broiling pan. Set your oven to Broil or 550 degrees Fahrenheit and place the pan about 4-6 inches away from the heat. Broil the halves for about 5-10 minutes, until the juice is bubbling, and the brown sugar has slightly melted and is starting to caramelize.

Step 4: Serve in individual grapefruit immediately for breakfast or brunch. Top each half with a Maraschino cherry for garnish.
Notes
Note: It's okay to pack the brown sugar mixture onto the grapefruit a bit on the heavy side. Once under the broiler, some will run on to the pan.
More Fruit Recipes
Fetch Rewards Referral Code: MXUXX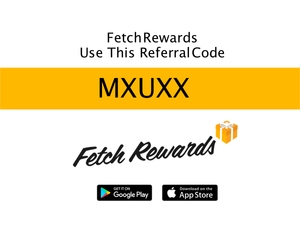 Are you ready to save money on your grocery bill and earn gift cards from your efforts? Use my
Fetch Rewards Referral Code MXUXX
and get 2,000 points. It's a free app that turns grocery receipts into rewards.
Click here to read my Fetch Rewards review on how it works.
Just scan any grocery or gasoline receipt, and earn points towards awesome rewards. You'll earn on all matched brands and products and gain access to exclusive offers that earn you even more points. No more entering codes, completing tasks or jumping through any hoops! Just scan your grocery receipt, and get rewarded.
Click here to download the FetchRewards app.
Use my Fetch Rewards Referral Code: MXUXX
You can find more money saving referral codes here:
Referral Code Master List
Chilled Breakfast Fruit Compote
Poached Pears with Cranberry Sauce
Mini Apple Tarts with Cranberries
Fruit Salsa with Homemade Cinnamon Chips