A fruit salsa recipe made with kiwis, apples, mango, and strawberries and served with homemade cinnamon chips. Serve this colorful and sweet salsa recipe for an elegant brunch, picnic, office party, or Cinco de Mayo party.
My family loved this recipe! This is an easy recipe to make, but making the chips does take a bit of time. The chips will be hard to stop eating, though. This sweet salsa turns out so good; you will wonder why you waited so long to make it! This is a fun treat for a summer picnic, brunch menu, or for a children's party. Just about everyone will like this fruit recipe.
Feel free to substitute other fruits such as peaches, blackberries, or blueberries. Color is what matters, so choose a variety of fruits in contrasting colors.
*This post may have affiliate links, which means I may receive a small commission if you choose to purchase through links I provide (at no extra cost to you). Thank you for supporting the work I put into this site!
To save time, you can also purchase the cinnamon chips. Many better grocery stores, like Trader Joes, now carry the chips already made. The homemade chips are great on their own!
Just a note, this recipe will turn out much better if you use fresh fruit. Frozen fruit such as raspberries and strawberries will lead to a fairly runny and mushy salsa.
Previous Comments
Fetch Rewards Referral Code: MXUXX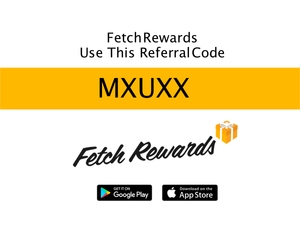 Are you ready to save money on your grocery bill and earn gift cards from your efforts? Use my
Fetch Rewards Referral Code MXUXX
and get 2,000 points. It's a free app that turns grocery receipts into rewards.
Click here to read my Fetch Rewards review on how it works.
Just scan any grocery or gasoline receipt, and earn points towards awesome rewards. You'll earn on all matched brands and products and gain access to exclusive offers that earn you even more points. No more entering codes, completing tasks or jumping through any hoops! Just scan your grocery receipt, and get rewarded.
Click here to download the FetchRewards app.
Use my Fetch Rewards Referral Code: MXUXX
You can find more money saving referral codes here:
Referral Code Master List
"Sounds easy; both chips and salsa. I will make this soon." – Margaret K. via FB
"This is delicious! If you do not want to make the chips, they do have cinnamon pita chips in the store that work just as nicely." – Amy U. M via FB
Fruit Salsa With Homemade Cinnamon Chips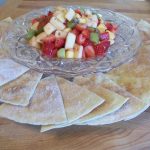 Print Recipe
Fruit Salsa with Homemade Cinnamon Chips
A fruit salsa recipe made with kiwis, apples, mango, and strawberries and served with homemade cinnamon chips.
Ingredients
Fruit Salsa
2

kiwis

peeled and diced

2

Golden Delicious apples - peeled

cored and diced

1

fresh ripe mango

diced into 1/4" chunks

1

pound

fresh strawberries

1

tablespoon

white granulated sugar

1

tablespoon

brown sugar

3

tablespoons

fruit preserves

any flavor
Cinnamon Chips
10

10 inch flour tortillas

butter flavored cooking spray

2

cups

white granulated sugar

2-3

teaspoons

ground cinnamon
Instructions
Preheat oven to 350 degrees.

In a small bowl, mix together 2 cups granulated sugar and 2-3 teaspoons ground cinnamon.

Spray a flour tortilla evenly with butter flavored cooking spray. Cut each into 8 wedges and place them in a single layer on a large cookie or baking sheet. Sprinkle the wedges evenly with the cinnamon sugar. Spray each wedge again lightly to set the sugar in place.

You can do two pans at a time to make this go faster. Fill them up as close together as you can before sprinkling the cinnamon sugar on them. Bake for 8-10 minutes until lightly brown. Remove from the oven and let them cool 5 minutes in the pan and transfer them to a platter or plate to finish cooling for another 10 minutes.

While the first batch of tortillas are baking, begin cutting up each of the fruits as noted above. In a large bowl, combine the chopped kiwi fruit, apples, mango, and strawberries, white sugar, brown sugar and fruit preserves or jam. Cover and chill in the refrigerator for 15 minutes or more.

Finish all of the tortillas in the same manner as step 3. By starting the cinnamon chips first and preparing your fruit salsa while the chips are baking you can cut down the amount of time this recipe will take to prepare.

To Serve: Place the salsa in a serving bowl and center it on a large platter. Arrange the chips around the outer edge of the platter and serve.
More Fruit Recipes
Chilled Breakfast Fruit Compote
Poached Pears with Cranberry Sauce
Mini Apple Tarts with Cranberries