An easy overnight breakfast casserole made with bacon, ham, hash brown potato patties, mushrooms, eggs, and cheddar cheese. Serve this quick and easy casserole recipe for breakfast or brunch.
One of the reasons I like this particular breakfast casserole is that it uses hash brown patties instead of bread. If you have shied away from making these types of brunch casseroles in the past, you may like this one better than some others.
Because you fry the hash browns until they are crisp and golden, you get a much richer flavor from them than if you were to put them in just as cold shredded potatoes. Taking the time to do that step will result in a much better tasting casserole.
*This post may have affiliate links, which means I may receive a small commission if you choose to purchase through links I provide (at no extra cost to you). Thank you for supporting the work I put into this site!
The combination of bacon and ham is always a winner when it comes to breakfast. You can leave out the mushrooms if you wish, but I do think they add flavor and texture to the dish. If you can buy fresh mushrooms, I would recommend them over canned mushrooms. If you do use canned mushrooms, be sure to drain them very well and press as much excess water out of them as you can.
As an added plus, since all of the ingredients get put directly in the pan, you will have very little clean up at the end of the day.
Fetch Rewards Referral Code: MXUXX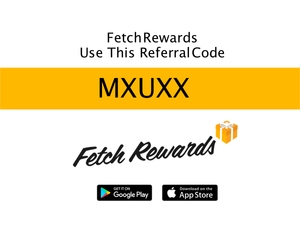 Are you ready to save money on your grocery bill and earn gift cards from your efforts? Use my
Fetch Rewards Referral Code MXUXX
and get 2,000 points. It's a free app that turns grocery receipts into rewards.
Click here to read my Fetch Rewards review on how it works.
Just scan any grocery or gasoline receipt, and earn points towards awesome rewards. You'll earn on all matched brands and products and gain access to exclusive offers that earn you even more points. No more entering codes, completing tasks or jumping through any hoops! Just scan your grocery receipt, and get rewarded.
Click here to download the FetchRewards app.
Use my Fetch Rewards Referral Code: MXUXX
You can find more money saving referral codes here:
Referral Code Master List
Serve a piece of hash brown casserole with a side of fresh fruit, toast and jam. My family liked this one a lot – mainly because it contains hash browns instead of bread.
Previous Comments
"Sounds delicious! And will take the stress out of breakfast on Sunday morning so I can enjoy all that Santa brings!" – Christina S.C. via FB
"The breakfast casserole looks yummy. I will have to try it. Keep up the good work Laura." – Jan K. via FB
Easy Overnight Breakfast Casserole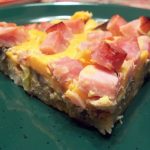 Print Recipe
Overnight Breakfast Casserole
A make-ahead hash brown breakfast casserole made with bacon, ham, hash brown potato patties, mushrooms, eggs, and cheddar cheese.
Ingredients
8

Slices

bacon

fried until crisp & crumbled

8

Hash brown potato patties

fried crisp

1/2

Cup

chopped onions

2

8-ounce cans

sliced mushrooms

(or 12 ounces fresh mushrooms)

3

Cups

cubed medium or sharp cheddar cheese

cut into 1/2" chunks

3

Cups

cubed smoked ham

cut into 1/2" chunks

6

Eggs

beaten

1/2

Cup

milk
Instructions
In a large non-stick skillet, fry the bacon until crisp. Drain on a paper towel and cool. Using a scissors, cut the bacon into small pieces.

In a large non-stick skillet, fry the hash brown potato patties in a few tablespoons of butter until crisp and browned.

Chop the onions and slice the mushrooms.

Grate the cheddar cheese and cube the ham.

Spray a 9" x 13" glass baking dish with non-stick cooking spray.

Place the crisp fried hash brown patties on the bottom of the pan.

Layer the fried bacon, onions, mushrooms, cheddar cheese, and ham evenly over the hash browns.

Beat the egg and milk together. Pour over all ingredients in the baking dish.

Cover with aluminum foil and place in the refrigerator overnight.

When ready to bake, preheat oven to 350 degrees. Bake covered with foil, for 45 minutes, then remove the foil and bake 25 additional minutes.

Let stand 5-10 minutes before serving.
More Breakfast Casserole Recipes
Ham and Egg Breakfast Casserole
Ham and Cheese Breakfast Casserole
Hash Brown Breakfast Casserole with Ground Beef
Wisconsin Breakfast Casserole With Ham Mushrooms and Cheese
Easy Breakfast Casserole With Ham And Cheese
Hearty Breakfast Casserole With Sausage, Cheese, And Hash Browns
Make-Ahead Breakfast Casserole with Bacon and Swiss Cheese
Italian Sausage Brunch Casserole with Rice Krispies
Triple Cheese Potato Casserole