A make-ahead breakfast casserole made with bacon, bread, Swiss cheese, onion, milk and eggs. Make this ethe night before and serve it for breakfast or brunch.
Behold the breakfast casserole! A beautiful combination of a complete breakfast all in one easy to serve dish. What could be a better answer to feeding guests? I will say, this type of brunch dish has indeed come to the rescue when you stay up late talking with guests and you know you need something ready to go in the morning.
When you know you will be entertaining overnight guests, this is a nice recipe to make because it only takes about 30 minutes to prepare the night before, especially if the bacon and onions are cooked ahead of time. You can bake it in the oven the next morning while you take care of all the other preparations for serving breakfast.
*This post may have affiliate links, which means I may receive a small commission if you choose to purchase through links I provide (at no extra cost to you). Thank you for supporting the work I put into this site!
Not All Casseroles are Created Equal
Not all breakfast casseroles are created equal, however. Some have too much bread and turn out mushy and others have ingredients that could be better paired with other flavors. This recipe uses what  I consider tried and true ingredients like bacon and Swiss cheese for a good flavor combination. That way you know you are off to a good start.
I will be talking about this more in another post, but the type of bread you choose for a breakfast casserole recipe has a lot of bearing on how the final product turns out. I prefer to use a firm bread like a French bread, in one of these casseroles as it can hold up better to being in the refrigerator overnight.
Fetch Rewards Referral Code: MXUXX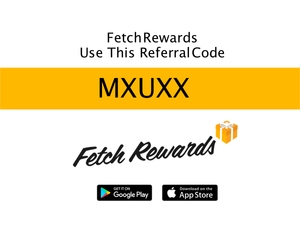 Are you ready to save money on your grocery bill and earn gift cards from your efforts? Use my
Fetch Rewards Referral Code MXUXX
and get 2,000 points. It's a free app that turns grocery receipts into rewards.
Click here to read my Fetch Rewards review on how it works.
Just scan any grocery or gasoline receipt, and earn points towards awesome rewards. You'll earn on all matched brands and products and gain access to exclusive offers that earn you even more points. No more entering codes, completing tasks or jumping through any hoops! Just scan your grocery receipt, and get rewarded.
Click here to download the FetchRewards app.
Use my Fetch Rewards Referral Code: MXUXX
You can find more money saving referral codes here:
Referral Code Master List
Also, day old bread actually works better than fresh bread for this type of recipe. Fresh bread tends to get soggy and absorb too much of the egg and milk mixture. When that happens, it can make your casserole rather mushy.
Crisp bacon and smooth Swiss cheese make a great combination for a family favorite, but feel free to experiment with other types of cheeses.
Previous Comments
"I only have a little Swiss so I think I will use cheddar; recipe sounds good." – Barbara H. via FB
Make-Ahead Breakfast Casserole Recipe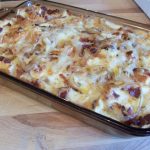 Print Recipe
Make-Ahead Breakfast Casserole
A make-ahead breakfast casserole made with bacon, bread, Swiss cheese, onion, milk and eggs. Make this egg casserole the night before and serve it for breakfast or brunch.
Ingredients
8

Slices

bacon

fried and crumbled

2

Onions

sliced thin

12

Slices

white or French bread

quartered

1

Cup

shredded Swiss cheese

8

Eggs

4

Cups

milk

1-1/2

Teaspoons

salt

1/4

Teaspoon

pepper
Instructions
Preheat oven to 350 degrees.

Fry bacon in a frying pan until crisp. Remove, drain, and cool on a few layers of paper towel.

Using the same pan, saute the onions in the remaining bacon grease until they are soft. Remove from pan and let cool.

Put 6 slices bread, quartered in a greased 9" x 13" baking pan.

Add half of crumbled bacon, onion and cheese; spread evenly.

Repeat layer of bread, bacon, onion, and cheese.

Combine eggs, milk, salt and pepper in a separate bowl; beat until mixed and pour over bread.

Cover with foil or wrap and store in refrigerator overnight.

In the morning, uncover the casserole and let stand at room temperature until oven is preheated.

Bake for 45-55 minutes.
Notes
If you have leftover Swiss cheese; sprinkle some on top of this bacon and Swiss cheese breakfast casserole during the last 5 minutes of baking for a nice golden brown touch.
More Breakfast Casserole Recipes
Ham and Cheese Breakfast Casserole
Hash Brown Breakfast Casserole with Ground Beef
Wisconsin Breakfast Casserole With Ham Mushrooms and Cheese
Overnight Casserole With Hash Browns Bacon and Ham
Easy Casserole With Ham And Cheese
Hearty Breakfast Casserole With Sausage, Cheese, And Hash Browns
Italian Sausage Brunch Casserole with Rice Krispies
Triple Cheese Potato Casserole