This fruit pizza recipe is made with a sugar cookie dough crust, cream cheese filling, and apples, blueberries, grapes, strawberries, and bananas. Serve for breakfast, brunch or a party for a quick,easy, and tasty treat.
A fruit pizza for breakfast or brunch? What a fun way to serve fruit and have dessert all at the same time. This fruit recipe tastes great and you can customize it for whatever kind of fruit you like to eat. Get creative with your fruits and enjoy the produce of the seasons. Fresh fruit works best, but you can still use canned or dried fruit and achieve good results.
Fruit Pizza Recipe Suggestions
Some suggestions are thin slices of apple, strawberry, kiwi fruit, and mango. You can also use blueberries, seedless red and green grapes cut in half, mandarin oranges, and just about any other fruit you can think of using. When purchasing fruit, take into consideration color contrast. You want to have a nice variety of colors and light and dark hues. There is no one right or wrong way to decorate your pizza. Just think about what is available, in season, and local and have fun with it.
*This post may have affiliate links, which means I may receive a small commission if you choose to purchase through links I provide (at no extra cost to you). Thank you for supporting the work I put into this site!
This does need to be refrigerated after you put everything together, otherwise the cream cheese filling will get soft and start running together.
Notes on Bananas
If you are using sliced bananas, please remember that they do brown quickly. I would only recommend using bananas if you are going to be serving this fruit pizza within a few hours of preparing it. The taste will be fine, but you will lose something in the presentation because the bananas will become brown. In the photo above, you can see it already starting to happen a bit.
Fetch Rewards Referral Code: MXUXX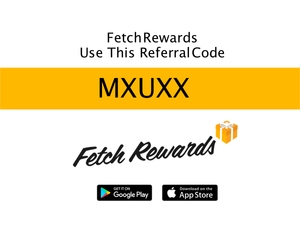 Are you ready to save money on your grocery bill and earn gift cards from your efforts? Use my
Fetch Rewards Referral Code MXUXX
and get 2,000 points. It's a free app that turns grocery receipts into rewards.
Click here to read my Fetch Rewards review on how it works.
Just scan any grocery or gasoline receipt, and earn points towards awesome rewards. You'll earn on all matched brands and products and gain access to exclusive offers that earn you even more points. No more entering codes, completing tasks or jumping through any hoops! Just scan your grocery receipt, and get rewarded.
Click here to download the FetchRewards app.
Use my Fetch Rewards Referral Code: MXUXX
You can find more money saving referral codes here:
Referral Code Master List
Here is another fruit pizza with a sugar cookie crust.
Fruit Pizza Recipe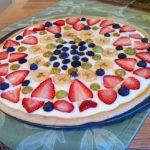 Print Recipe
Fruit Pizza Recipe
A fruit pizza recipe made with a sugar cookie dough crust, cream cheese filling and topped with apples, blueberries, grapes, and strawberries.
Ingredients
1

16-18 oz. package

refrigerated sugar cookie dough

1/2

cup

granulated sugar

1

egg

1

8 ounce package

cream cheese

1/2

cup

sour cream

1

teaspoon

vanilla extract

5 -6

various fruits

sliced thin
Instructions
Preheat oven to 350 degrees.

Unroll the refrigerated sugar cookie dough. Use a light spray of vegetable oil, (like Pam) on a 12" to 14' flat pizza pan or a 10" x 15" rectangular baking sheet.

Roll the dough into a ball and begin flattening out the dough. Keep working the dough and spread it to the outer edges of the pizza pan.

Keep the dough contained inside the pan otherwise your slices will become difficult to remove.

Bake the cookie dough crust until lightly browned, about 10-12 minutes. Remove from the oven and allow to cool completely on a wire baking rack.

In a medium bowl, combine the sugar, egg, cream cheese, sour cream and vanilla. Beat until smooth with an electric mixer or whisk.

Spread the cream cheese mixture evenly on the cooled cookie crust.

Grapes, blueberries, apples, kiwi fruit, bananas, mandarin oranges, peaches, and strawberries are great fruits to experiment with. (If you are using canned fruits, be sure to drain them very well and blot with a paper towel to remove the excess moisture.)

Beginning in the center of your crust, place the sliced fruit in a circular fashion layering as you go. Be creative!

Refrigerate until you are ready to eat. Use a pizza cutter and cut into pie shaped wedges.
Notes
If the cream cheese mixture seems too runny, refrigerate for 30 minutes before applying to the cookie crust.
More Fruit Recipes
Chilled Breakfast Fruit Compote
Poached Pears with Cranberry Sauce
Mini Apple Tarts with Cranberries
Fruit Salsa with Homemade Cinnamon Chips