A classic deviled egg recipe made with hard-cooked eggs, mayonnaise, mustard, and paprika. Make these deviled eggs for your next Superbowl party, brunch, picnic, or pig-out day at work.
I don't know about you, but whenever I make a tray of deviled eggs they have a habit of disappearing quick! All you have to do is take the plate from the refrigerator and set them on the counter. Then just stand back and watch them disappear one by one. They are hard to resist!
This is a favorite deviled egg recipe of mine and one that I make frequently. Often I make these eggs just to eat for a quick high protein, low carbohydrate breakfast or lunch. They also make a great appetizer to bring along as a party food or just enjoy them as a nutritious snack.
*This post may have affiliate links, which means I may receive a small commission if you choose to purchase through links I provide (at no extra cost to you). Thank you for supporting the work I put into this site!
Make Better Hard Cooked Eggs
One of the biggest helps I have found in making any type of deviled egg is using an egg cooker instead of cooking eggs in a kettle. They turn out consistently better when you use an egg cooker. You can take a look at the one I own below. This is one piece of kitchen equipment that is worth the investment and shelf space.
However, one of the things I like best about using an egg cooker is being able to peel the eggs while they are still warm. Often, when I have made hard cooked eggs I have had to refrigerate them for a few hours before they would peel well. Now I can cook the eggs in my egg cooker and peel them about 15 minutes after they are done. It is a great time saver and I find the shells peel much better.
Classic Deviled Egg Recipe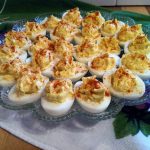 Print Recipe
Classic Deviled Egg Recipe
A classic deviled egg recipe made with hard-cooked eggs, mayonnaise, mustard, and paprika. Make these deviled eggs for your next Superbowl party, brunch, picnic, or pig-out day at work.
Ingredients
12

hard cooked eggs

chilled

1/3

cup

mayonnaise

2

teaspoons

brown mustard

dash

paprika
Instructions
Cook and peel the hard cooked eggs. If you have cooked them in a kettle, make sure the eggs are chilled as they will peel much easier. I usually cook the eggs the night before and refrigerate them. You can also use an egg cooker.

Using a sharp flat edge knife, dip the knife in a bowl of hot water and slice the eggs in half lengthwise. Dip the knife back into the water for each cut. This results in a cleaner cut.

Gently remove the yolks and place in a separate medium mixing bowl and crumble the yolks with a fork.

Arrange the whites on an egg serving platter.

To the yolks, add 2 teaspoons mustard to the egg yolks and mix together.

Add mayonnaise in 1-2 Tablespoons at a time until a smooth thick consistency is achieved. The amount varies-about 1/3 to 1/2 cup of mayonnaise, more or less.

Stir until smooth.

Place egg mixture in a pastry bag with a circular or star tip and pipe the mixture into the eggs. If you don't have a pastry bag, a spoon will work also to fill the eggs.

Sprinkle lightly with paprika and you are ready to serve them.
Notes
Makes 24 halves. Serves 12.
More Deviled Egg Recipes
Fetch Rewards Referral Code: MXUXX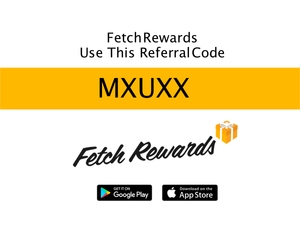 Are you ready to save money on your grocery bill and earn gift cards from your efforts? Use my
Fetch Rewards Referral Code MXUXX
and get 2,000 points. It's a free app that turns grocery receipts into rewards.
Click here to read my Fetch Rewards review on how it works.
Just scan any grocery or gasoline receipt, and earn points towards awesome rewards. You'll earn on all matched brands and products and gain access to exclusive offers that earn you even more points. No more entering codes, completing tasks or jumping through any hoops! Just scan your grocery receipt, and get rewarded.
Click here to download the FetchRewards app.
Use my Fetch Rewards Referral Code: MXUXX
You can find more money saving referral codes here:
Referral Code Master List
Basic Deviled Eggs Recipe with Three Variations
More Appetizer Recipes
Chicken Salad Pickle Boats Recipe With Dill Pickles
Old-Fashioned Pickled Egg Recipe
Baked Crab Dip With Cream Cheese And Green Onion