A pickled egg recipe made with hard cooked eggs pickled in brine and onions. They make a great high protein, low carbohydrate snack for breakfast, brunch, or as an appetizer with drinks. They also fit in as a paleo snack.
Well, it is almost Superbowl time and when thinking about what to make, pickled eggs came to mind. Having a Superbowl party is fun, because just about anything goes in the way of food. You often find these at a local bar and can be a fun munchy food.
Big Game Comfort Food
This pickled egg recipe was given to us about 20 years ago by a long time friend of the family. These eggs take about 4-5 days before they are ready and ideally 2 weeks, but are worth the wait. I wanted to share it with you now as the Superbowl is only a few weeks away and this recipe needs to be made ahead of time.
*This post may have affiliate links, which means I may receive a small commission if you choose to purchase through links I provide (at no extra cost to you). Thank you for supporting the work I put into this site!
Pickled eggs make a delicious high protein snack or appetizer when served with drinks. They taste especially good with beer and are many times found at taverns and bars. Think of these as comfort food for the big game.
This recipe makes a large batch, 36 eggs, but they keep for at least a month in the brine, so you can enjoy them for some time. Make these eggs at least one to two weeks ahead of when you want to eat them, as it takes that long for them to absorb the pickling brine. You can eat them sooner than that but they will not have very much pickled flavor. They get better with age. The best part? There is no canning required!
To Refrigerate or Not Refrigerate?
Fetch Rewards Referral Code: MXUXX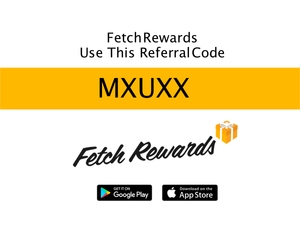 Are you ready to save money on your grocery bill and earn gift cards from your efforts? Use my
Fetch Rewards Referral Code MXUXX
and get 2,000 points. It's a free app that turns grocery receipts into rewards.
Click here to read my Fetch Rewards review on how it works.
Just scan any grocery or gasoline receipt, and earn points towards awesome rewards. You'll earn on all matched brands and products and gain access to exclusive offers that earn you even more points. No more entering codes, completing tasks or jumping through any hoops! Just scan your grocery receipt, and get rewarded.
Click here to download the FetchRewards app.
Use my Fetch Rewards Referral Code: MXUXX
You can find more money saving referral codes here:
Referral Code Master List
Should these eggs be refrigerated? They are stored in a brine, but proper canning and preserving methods say you should refrigerate the eggs at all times except when serving. We have left the jar on the counter for the whole process and the eggs have been just fine. Many bars and taverns serving these eggs do not refrigerate them, so I will leave that up to you. Pickled eggs will keep for at least two to four weeks.
The Pickled Egg Brine
As with any type of brined food, the brine itself is made up of vinegar, sugar, and water along with a pickling spice. Some recipes do not call for pickling spice, but I find it is what makes the eggs what they are.
Make Perfect Hard Cooked Eggs
One of the things that ruins pickled eggs is when you cook the eggs and the eggshells don't peel well. You end up with pitted eggs that just don't look nice. One way to improve this is by using an egg cooker.
How To Make Hot And Spicy Pickled Eggs
The recipe below calls for two chili peppers to give it some kick. If you want a hotter or spicier egg you can add in one of the following ingredients:
2 sliced fresh jalapeños or 1/4 cup pickled jalapeño juice
or if you want a Cajun kick add in one Tablespoon Cajun spice.
But just pick one and don't mix the Cajun and jalapeño flavors together.
How To Make Pickled Beet Eggs
Pickled beet eggs are made exactly the same as the recipe below except you make this one change:
Purchase one 15 ounce can of beets. Drain the liquid from the beets. Discard the beets or save them to eat later on their own. Take the beet juice and add it into the cooked brine. Follow the remaining instructions and you will have beautiful pickled eggs with a tint of pink to deep red color, depending on how long they stay in the brine.
Old-Fashioned Pickled Egg Recipe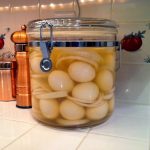 Print Recipe
Old-Fashioned Pickled Egg Recipe
Pickled eggs are hard cooked eggs that are pickled in brine and make a great high protein, low carbohydrate snack for breakfast, brunch or as an appetizer with drinks.
Ingredients
3

Dozen

Large eggs

4

cups

white vinegar

4

Tablespoons

sugar

1

Cup

water

2

Tablespoons

salt

2

chili peppers

optional

2-3

Tablespoons

pickling spice

3

medium white onions

sliced thin
Supplies
cheesecloth and kitchen string
Instructions
Prepare the eggs as you would for hard cooked eggs, cooking for 10 minutes. You may have to cook the eggs in three batches, if you do not have a big enough pot. Cool and peel eggs. I would recommend using an egg cooker if you have one.

In a large saucepan, combine the white vinegar, sugar, water, and salt. Bring to a boil and boil about 10 minutes.

Layer the eggs and sliced onion into a gallon glass or plastic container. Make sure you have a container large enough for all the eggs. The container also needs to have a screw on cover or rubber ringed lid in order to close properly.

Place pickling spice in the center of a cheesecloth square and tie securely to make a bag.

Add the spice bag to the jar.

Add the optional chili peppers to the jar.

Pour the boiling liquid over the top of the eggs into the jar. Fill to within 1-inch of the top of the jar. Do not overfill. Discard any remaining liquid.

Screw lid on tightly and let stand for at least 4-5 days before eating.

Pickled eggs are much better if you let them stand about 2 weeks. They will keep for about a month or even longer.

I would also not recommend eating the chili peppers and onion; just discard them.

Makes 36 eggs.
Notes
If you are using a glass gallon jar with a metal lid, place a piece of wax paper on the jar before you screw the lid in place. That way it prevents any potential rust from the metal lid getting into the brine.
More Appetizer Recipes
Chicken Salad Pickle Boats Recipe With Dill Pickles
Baked Crab Dip With Cream Cheese And Green Onion
Basic Deviled Eggs Recipe with Three Variations