A holiday brunch menu to serve featuring Eggs Benedict, cucumber salad, raisin muffins and a fresh fruit salad.
Serve for a winter or holiday brunch or lunch.
Of course, don't forget the plate of holiday cookies and treats, along with any traditional favorites like pickles, olives, and other finger foods.
*This post may have affiliate links, which means I may receive a small commission if you choose to purchase through links I provide (at no extra cost to you). Thank you for supporting the work I put into this site!
A variety of sweet and savory foods is what makes brunch work. Start with a few of these brunch recipes listed below and then add your own touches for a brunch that is uniquely you.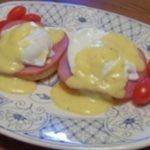 Eggs Benedict are made with English muffins, Canadian style bacon, poached eggs, and Hollandaise sauce for a savory main breakfast dish and garnished with grape tomatoes.
Fetch Rewards Referral Code: MXUXX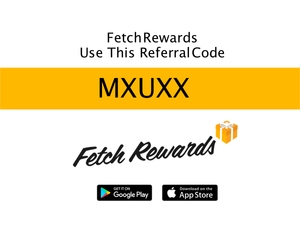 Are you ready to save money on your grocery bill and earn gift cards from your efforts? Use my
Fetch Rewards Referral Code MXUXX
and get 2,000 points. It's a free app that turns grocery receipts into rewards.
Click here to read my Fetch Rewards review on how it works.
Just scan any grocery or gasoline receipt, and earn points towards awesome rewards. You'll earn on all matched brands and products and gain access to exclusive offers that earn you even more points. No more entering codes, completing tasks or jumping through any hoops! Just scan your grocery receipt, and get rewarded.
Click here to download the FetchRewards app.
Use my Fetch Rewards Referral Code: MXUXX
You can find more money saving referral codes here:
Referral Code Master List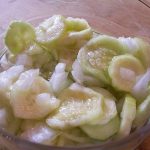 For a savory vegetable side dish brunch idea, serve a fresh cucumber salad. It tastes especially good in the middle of winter when fresh produce is not as plentiful. It is a nice light addition to a brunch table and adds a nice bit of color as well.
For something sweet, indulge in a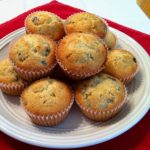 raisin muffin with moist plump raisins. Serve them warm for breakfast or brunch with butter, cream cheese spread or just plain. These muffins are equally good either way.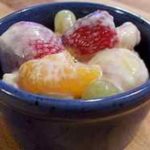 This fresh fruit salad is made with strawberries, oranges, grapes, and bananas and topped with a sour cream and honey dressing.
Fruit adds a nice complement and lighter fare to a heavier brunch menu.
It can round out a meal and adds a pop of color with red, orange, and green.
To Prepare this Brunch Menu:
The cucumber salad should be made ahead the day before and you can make the fruit salad ahead of time as well, either the day before or the same morning. The raisin muffins will taste best if made fresh the same morning. They can be kept warm in the oven at low heat with a towel over them.
Before beginning the eggs, set the table, decorate, and have everything else ready to go. This is when it is nice to have one of your guests help you get everything ready.
To make the Eggs Benedict, begin poaching the eggs in salted water. Drain and set aside on a plate and keep warm. Make the Hollandaise sauce next, then fry the ham and toast the English Muffins. Plate everything and top with the Hollandaise sauce. (More specific instructions and tips are available on the recipe page here.)
Shopping Checklist
This shopping list is for making the entire holiday brunch menu. Please refer to each individual recipe for correct proportions.
Basic Pantry Items:
1 dozen eggs
lemon juice
butter
cayenne pepper
salt
1 small onion
sugar
celery seed
white vinegar
raisins
flour
baking powder
sour cream
honey

Items you may have to shop for:
1 package English Muffins
1 package Canadian-style bacon (8 slices)
grape tomatoes
8 cups peeled cucumbers
3 medium bananas
8 ounces strawberries
4 medium oranges
8 ounces seedless green grapes
Croissants
1 Quart Orange Juice or other fruit juice
Coffee or Tea
Classic Brunch Menus
More Brunch Ideas
Brunch Recipe Ideas For A Crowd
Ten Fun Brunch Recipes and Menu Ideas
Tea Party Treats
Save
Save
Save