Eggs Benedict is a classic all-time favorite breakfast comfort food made with English muffins, Canadian-Style bacon, poached eggs, and topped with Hollandaise sauce.
The first time I had this egg recipe was at a friend's house during college for brunch. She showed me how easy this recipe really was and I was in heaven! What a delicious treat for a special holiday breakfast or brunch!
The creamy Hollandaise sauce is made with eggs and butter and then seasoned with a bit of cayenne pepper and lemon juice. When the poached eggs are cut open they mix beautifully with the creamy Hollandaise sauce. The saltiness of the ham and toasted English muffins offset and compliment the creamy eggs and sauce.
*This post may have affiliate links, which means I may receive a small commission if you choose to purchase through links I provide (at no extra cost to you). Thank you for supporting the work I put into this site!
***A note on the Canadian Bacon***
The product I used in this recipe is Canadian Style Bacon, which is not the same as Canadian bacon or strip bacon. It is cut from the loin of the pig and is much leaner than standard bacon. It is also cured in the same manner as a ham would be. As a substitute, you could use a thinly sliced ham, but the texture of the meat will be slightly different as it is not as lean.
Fetch Rewards Referral Code: MXUXX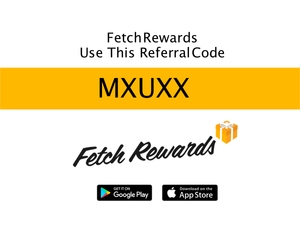 Are you ready to save money on your grocery bill and earn gift cards from your efforts? Use my
Fetch Rewards Referral Code MXUXX
and get 2,000 points. It's a free app that turns grocery receipts into rewards.
Click here to read my Fetch Rewards review on how it works.
Just scan any grocery or gasoline receipt, and earn points towards awesome rewards. You'll earn on all matched brands and products and gain access to exclusive offers that earn you even more points. No more entering codes, completing tasks or jumping through any hoops! Just scan your grocery receipt, and get rewarded.
Click here to download the FetchRewards app.
Use my Fetch Rewards Referral Code: MXUXX
You can find more money saving referral codes here:
Referral Code Master List
Additional Helps:
An easier way to make poached eggs is with an egg cooker. Get perfect poached eggs every time.
You can also find more information and helpful hints on how to make Eggs Benedict here.
Still unsure about poaching eggs? This website has a very nice tutorial: How to poach an egg.
Classic Eggs Benedict Recipe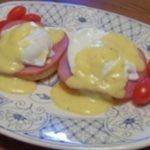 Print Recipe
Classic Eggs Benedict
Eggs Benedict is a favorite breakfast and brunch item made with English muffins, Canadian bacon, poached eggs, and Hollandaise sauce.
Ingredients
4

English Muffins

split

1

package Canadian-style bacon

8 slices

8

eggs
Hollandaise Sauce
2

egg yolks

1-1/2

teaspoons

Lemon Juice

1

stick butter

1/2 cup

1/2

teaspoon

Cayenne Pepper

dash of salt
Kitchen Equipment Needed
medium saucepan

5"-6" high sides for poaching eggs

Double boiler for the Hollandaise sauce

Frying pan

Toaster or toaster oven
Instructions
Poached Eggs:
In a medium saucepan, fill with about 3 inches of water and bring to a rolling boil. Add a bit of salt to the water. This will help the eggs stay together when you poach them. Reduce the heat to a simmer before you add the eggs. Crack the eggs into separate small dishes, being careful not to break the yolks.

Slowly pour each egg into the lightly simmering water. You can do 2-3 depending how large your saucepan is and how confident you are with the process. Cover and remove from heat. Cook for about 3-5 minutes depending on how runny you like your eggs. Drain well with a slotted spoon. Place the eggs on a serving plate and repeat with the remaining eggs. Keep the eggs warm.
Hollandaise Sauce:
Whisk together the egg yolks and lemon juice in the top portion of a double boiler. In the bottom of the double boiler, add enough water but make sure it does not touch the top saucepan. Heat to a simmer. Cut the stick of butter into three pieces and add the first piece into the egg yolks, stirring constantly until melted. Continue with the other two pieces of butter, one at a time until dissolved. Keep stirring and cooking the mixture for another 2-3 minutes until the sauce is thickened. Remove it from the heat and add in the cayenne pepper and salt. Keep warm until ready to serve.
English Muffins and Canadian Style Bacon:
Fry the Canadian Style bacon in a pan until warm. Toast the English muffins in a toaster and butter them.
Plating the Eggs Benedict:
Place 2 toasted and buttered English muffin halves on a plate. Cover each with a slice of Canadian Style bacon. Spoon a poached egg (drained well) over each slice of bacon. Spoon Hollandaise sauce over each half. Garnish the plate with fresh grape tomatoes for added color.
More Breakfast Eggs Recipes
Scrambled Egg Breakfast Sandwich
Egg and Hash Brown Breakfast Skillet
Easy Egg Casserole with Bacon and Herbs
Scrambled Egg Breakfast Burritos