An easy hamburger casserole made with hamburger, rotini pasta, baked beans, tomato sauce, and barbecue sauce. Serve this for a weeknight dinner.
Ahh…the humble casserole. This is one of those everyday easy recipes that can save dinner for you when you don't have any ideas about what to make or are short on ingredients. The is the type of recipe at first glance you might think of as boring and bland. Actually it is quite flavorful and something just about everyone in the family will enjoy.
I definitely put this dish in the comfort food area, as the combination of hamburger and pasta is just so satisfying! Although you can make this any time of year; it seems to taste particularly good on a cold winter night.
*This post may have affiliate links, which means I may receive a small commission if you choose to purchase through links I provide (at no extra cost to you). Thank you for supporting the work I put into this site!
All you need to have around is pasta, hamburger, tomato sauce and barbecue sauce. If you normally stock these types of items, you can put together this winning recipe in no time.
This recipe also easily morphs to what you have on hand. So, if you don't have rotini pasta (the spirals) you can use shells instead, or whatever other pastas you happen to have around.
Fetch Rewards Referral Code: MXUXX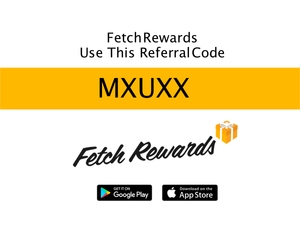 Are you ready to save money on your grocery bill and earn gift cards from your efforts? Use my
Fetch Rewards Referral Code MXUXX
and get 2,000 points. It's a free app that turns grocery receipts into rewards.
Click here to read my Fetch Rewards review on how it works.
Just scan any grocery or gasoline receipt, and earn points towards awesome rewards. You'll earn on all matched brands and products and gain access to exclusive offers that earn you even more points. No more entering codes, completing tasks or jumping through any hoops! Just scan your grocery receipt, and get rewarded.
Click here to download the FetchRewards app.
Use my Fetch Rewards Referral Code: MXUXX
You can find more money saving referral codes here:
Referral Code Master List
What makes this recipe special is that that spiciness of the barbecue sauce counteracts the sweetness of the baked beans. The result is just plain yummy! I personally like to use Sweet Baby Ray's Honey Barbecue sauce in this dish, but you can use whatever you have on hand.
My mom has made this regularly over the years and I have developed my own version of what my family likes. You can also add sun-dried tomatoes if you wish for more of a tomato flavor.
Serve with cottage cheese or a dish of fruit on the side.
Easy Hamburger Casserole With Baked Beans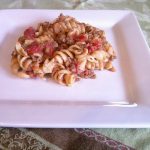 Print Recipe
Easy Hamburger Casserole
An easy hamburger casserole for a weeknight dinner. This one is a hit in our house!
Ingredients
1

Tablespoon

olive oil

1/2

cup

chopped onion

2

Teaspoons

chopped garlic

1

pound

ground beef

thawed (I use 80/20 beef)

12-16

ounces

uncooked rotini pasta or medium shells

1-28

ounce

can Bush's Baked Beans

1/2

cup

barbecue sauce

1-16

ounce

can tomato sauce

1/4

cup

finely chopped sun-dried tomatoes

re-hydrated (optional)

Salt and pepper to taste
Instructions
Preheat oven to 350 degrees F.

In a frying pan, heat olive oil. Add chopped onion and garlic. Saute until soft for 2-3 minutes.

Add thawed ground beef to the frying pan and cook until hamburger is completely browned. Remove from heat and set aside.

In a large kettle prepare pasta according to package directions. Use 12-16 ounces of pasta depending on how many people you will feed.

Drain pasta from the kettle and then place the drained pasta back into the kettle. Add in the hamburger, baked beans, barbeque sauce, tomato sauce, and sun-dried tomatoes. Stir well and add salt and pepper to taste.

Transfer entire mixture into a 2-1/2 quart casserole dish and bake for 40 minutes at 350 degrees until heated through.
Family Friendly Dinner Ideas
How To Make The Best Grilled Chicken
Homemade Chili Recipe With Kidney Beans
Grilled Beef And Veggie Kabobs
Corn Cheese Spaghetti Casserole
Brown Sugar Ham Glaze With Spices
Easy Mini Slider Cheeseburgers
Cheddar Cheese Meatloaf Recipe
Six Layer Grilled Chicken Burritos
Ground Beef Shepherds Pie Recipe
Great Date Night Dinner Ideas
Make At Home Southern Fried Chicken