A hearty hamburger soup recipe made with hamburger, mixed vegetables, V-8 juice, Ramen noodles, and beefy onion soup mix. Hamburger soup is one of our favorite weeknight dinners.
We usually have the ingredients on hand and it makes a hearty and satisfying winter meal. Everyone leaves the table content and happy when I make this recipe. Even my 11-year old son likes it and that is saying something!
My mother-in-law originally shared with us and it has been further modified by other family members to what we make today.
*This post may have affiliate links, which means I may receive a small commission if you choose to purchase through links I provide (at no extra cost to you). Thank you for supporting the work I put into this site!
We Modified The Recipe!
The original recipe did not have the beefy onion soup mix nor the Ramen Noodle Soup, but we found adding those ingredients does add a lot of flavor. Also, we find we like the V-8 juice in this soup more than plain tomato juice, but that is up to you to decide. Sometimes that gets determined by what you happen to have on hand at the time.
One of the things that I appreciate about this soup is that you can make it in a single pot. If you have a large soup pot, you can brown the hamburger, garlic, and onions right in the pot and then add the rest of the ingredients. That makes for much easier clean up.
Fetch Rewards Referral Code: MXUXX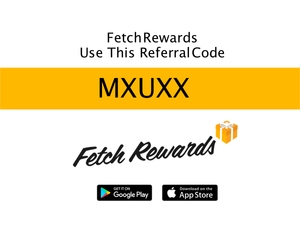 Are you ready to save money on your grocery bill and earn gift cards from your efforts? Use my
Fetch Rewards Referral Code MXUXX
and get 2,000 points. It's a free app that turns grocery receipts into rewards.
Click here to read my Fetch Rewards review on how it works.
Just scan any grocery or gasoline receipt, and earn points towards awesome rewards. You'll earn on all matched brands and products and gain access to exclusive offers that earn you even more points. No more entering codes, completing tasks or jumping through any hoops! Just scan your grocery receipt, and get rewarded.
Click here to download the FetchRewards app.
Use my Fetch Rewards Referral Code: MXUXX
You can find more money saving referral codes here:
Referral Code Master List
Also, if you are watching your carbs, this recipe might just fit into your meal plan, just leave off the crackers.
Hearty Hamburger Soup Recipe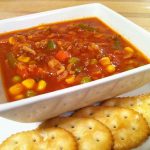 Print Recipe
Hearty Hamburger Soup Recipe
A recipe for hamburger soup made with hamburger, mixed vegetables, V-8 juice, Ramen noodles, and beefy onion soup mix.
Ingredients
1/2

medium onion

chopped (about 1/2 cup)

1

tablespoon

Butter

1

teaspoon

chopped garlic

1

pound

hamburger

1-64

ounce

bottle V-8 Juice or Tomato Juice

1-16

ounce

package frozen mixed vegetables

thawed

1

pkg. Beefy Onion Soup Mix

1

pkg. Beef Flavored Ramen Noodle Soup
Instructions
Chop onion and place in large stock pot. Add chopped garlic and butter. Saute on medium high heat until the onions turn translucent and give up their water.

Turn heat down to medium and add in hamburger. Using a large plastic spoon, break up and crumble the hamburger while browning.

Once the hamburger is browned, add in the bottle of V-8 juice, frozen mixed vegetables, and beefy onion soup mix.

Gently crush the Ramen noodles into small pieces while still in the package. Open the package and remove the seasoning packet. Add the seasoning packet only to the soup.

Simmer on low heat for 15 minutes.

Add in the crushed Ramen noodles and stir together.

Simmer for an additional 15 minutes on low heat.
Notes
Serve with crackers on the side.
Family Friendly Dinner Ideas
How To Make The Best Grilled Chicken
Homemade Chili Recipe With Kidney Beans
Grilled Beef And Veggie Kabobs
Corn Cheese Spaghetti Casserole
Brown Sugar Ham Glaze With Spices
Easy Mini Slider Cheeseburgers
Cheddar Cheese Meatloaf Recipe
Six Layer Grilled Chicken Burritos
Ground Beef Shepherds Pie Recipe
Great Date Night Dinner Ideas
Make At Home Southern Fried Chicken