Corn cheese spaghetti casserole is an easy main dish casserole made with spaghetti, corn, cheddar cheese and bacon. This is a hearty comfort food the entire family will like.
One of the best things about some of my favorite comfort foods are the choices available and they include so much more than only sweets and desserts. There is a wide range of satisfying foods that can also become your family evening dinner at the same time, like this spaghetti casserole.
This particular recipe comes from my mother-in-law and she was gracious enough to share it with me. I remember first having this at her house some twenty years ago and thought it was an excellent way to use up what you have in the refrigerator.
*This post may have affiliate links, which means I may receive a small commission if you choose to purchase through links I provide (at no extra cost to you). Thank you for supporting the work I put into this site!
Use Up The Leftovers
One of the things to note about this recipe is that I believe originally it was more of a casserole in which you needed to find something to make for dinner and you just used what you had available. So, if you happen to have leftover corn, spaghetti, and cooked bacon around, this will go together pretty quickly. On the other hand you have to make this from scratch, including cooking the bacon, the prep time will be much longer.
In my recipe below, I have listed the prep time as if you would need to prepare everything from scratch, including cooking the spaghetti and frying the bacon.
Fetch Rewards Referral Code: MXUXX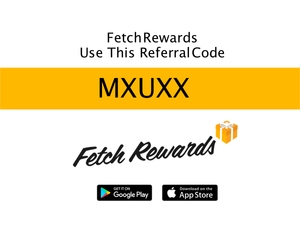 Are you ready to save money on your grocery bill and earn gift cards from your efforts? Use my
Fetch Rewards Referral Code MXUXX
and get 2,000 points. It's a free app that turns grocery receipts into rewards.
Click here to read my Fetch Rewards review on how it works.
Just scan any grocery or gasoline receipt, and earn points towards awesome rewards. You'll earn on all matched brands and products and gain access to exclusive offers that earn you even more points. No more entering codes, completing tasks or jumping through any hoops! Just scan your grocery receipt, and get rewarded.
Click here to download the FetchRewards app.
Use my Fetch Rewards Referral Code: MXUXX
You can find more money saving referral codes here:
Referral Code Master List
Oh yes, did I mention this casserole has BACON in it??? It is just my opinion, but everything is better with BACON in it! Yum! The bacon in here is what gives this dish its flavor, so no skimping on the bacon. This is one time that you will want to fry the bacon crisp; probably more crisp than you would for just eating on the side.
Corn Cheese Spaghetti Casserole Recipe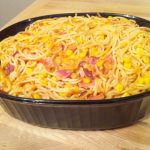 Print Recipe
Corn Cheese Spaghetti Casserole
An easy and hearty dinner casserole featuring bacon, corn, cheese, and spaghetti.
Ingredients
1

pound

bacon

1

pound

spaghetti

16 ounce box

4

cups

tomato juice

2

cups

whole kernel corn

thawed and drained

3

Tablespoons

flour

2

cups

shredded cheddar cheese

Salt and pepper to taste
Instructions
Pre-heat oven to 350 degrees.

In a large frying pan, cook entire package of bacon until crispy and drain on a double layer of paper towel. When cool to the touch; take a scissors and snip pieces to crumble the bacon. Set aside.

While the bacon is cooking, prepare the spaghetti according to package directions and drain. Place the spaghetti back in the same kettle you cooked it in.

Add in the thawed and drained corn.

Add in the tomato juice and bacon.

Season with salt and pepper to taste.

Grate the cheese and place in a separate bowl. Sprinkle 3 Tablespoons flour on the cheese and use a fork to coat the cheese evenly.

Add the cheese and extra flour to the casserole. Stir everything together and transfer all to a oven safe casserole dish.

Bake at 350 degrees for 20-25 minutes until heated through.
Notes
You can use V-8 juice as a substitute for plain tomato juice. I have tried this and it tastes great.
Family Friendly Dinner Ideas
How To Make The Best Grilled Chicken
Homemade Chili Recipe With Kidney Beans
Grilled Beef And Veggie Kabobs
Brown Sugar Ham Glaze With Spices
Easy Mini Slider Cheeseburgers
Cheddar Cheese Meatloaf Recipe
Six Layer Grilled Chicken Burritos
Ground Beef Shepherds Pie Recipe
Great Date Night Dinner Ideas
Make At Home Southern Fried Chicken