A humble pork noodle casserole made with fried pork chops, wide egg noodles and corn. Serve this for an easy weeknight dinner. It makes enough to feed a crowd.
You know when your husband's family is sitting around reminiscing about how they loved a dish their mother used to make? This is one one of those recipes. My mother-in-law, Loretta used to make this when my husband was young and it seems to be one of those family favorites that bring back fond memories of childhood. I guess that is what comes to mind for me as well when I think about comfort food.
I do not think Loretta ever had a written recipe for this, but it is easy enough to remember in your mind. We have made this for dinner recently and it is an easy main dish meal which is a great alternative to hamburgers.
*This post may have affiliate links, which means I may receive a small commission if you choose to purchase through links I provide (at no extra cost to you). Thank you for supporting the work I put into this site!
This is a depression era recipe that was more than likely put together with leftovers. After all, you wouldn't have let any food go to waste. I have adapted it to modern cooking quantities.
I made this recipe with a large electric frying pan. You could also make it in a deep walled frying pan.
Don't Be Afraid of the Pepper!
Fetch Rewards Referral Code: MXUXX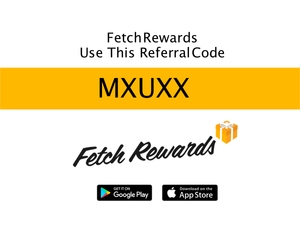 Are you ready to save money on your grocery bill and earn gift cards from your efforts? Use my
Fetch Rewards Referral Code MXUXX
and get 2,000 points. It's a free app that turns grocery receipts into rewards.
Click here to read my Fetch Rewards review on how it works.
Just scan any grocery or gasoline receipt, and earn points towards awesome rewards. You'll earn on all matched brands and products and gain access to exclusive offers that earn you even more points. No more entering codes, completing tasks or jumping through any hoops! Just scan your grocery receipt, and get rewarded.
Click here to download the FetchRewards app.
Use my Fetch Rewards Referral Code: MXUXX
You can find more money saving referral codes here:
Referral Code Master List
One of the seasonings that give this recipe much of its flavor is pepper. Don't be afraid to go heavy on the pepper. It will work into the dish very well. If you have picky eaters, try using white pepper so it is not noticeable. My rule of thumb is that if you cannot see the specks of pepper, there isn't enough in there.
What type of Pork to Use?
This recipe calls specifically for pork chops. They are fattier than other cuts of pork, but the fat rendering is what gives this recipe much of its' flavor. I would recommend against using leaner cuts of pork as it will turn out too dry. One of the great things about this recipe is that pork chops are generally inexpensive.
Do Not Overcook the Noodles!
The wide egg noodles in this recipe are the type that are paper thin, so much so that you can almost see through them. This means you need very little cooking time before they are done. The package I used called for 5-7 minutes of cooking time. I checked them at 4 minutes and they were already done. So, read the package directions and check them early. You want them a bit firm as they will continue to cook when you add them back in.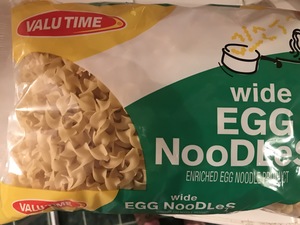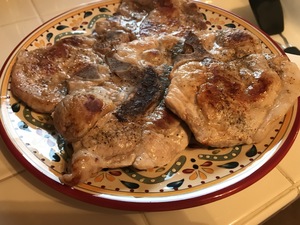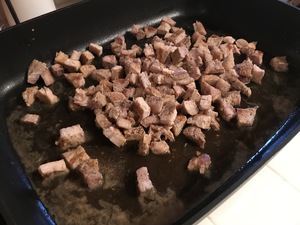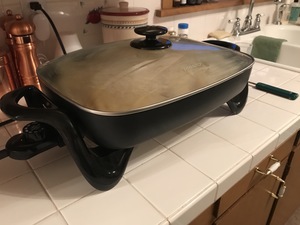 Pork Noodle Casserole Recipe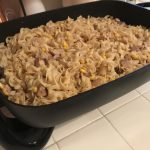 Print Recipe
Pork Noodle Casserole
A humble pork noodle casserole made with fried pork chops, wide egg noodles and corn. Serve this for an easy weeknight dinner.
Ingredients
4

Bone-in pork chops (about 1-1/2 pounds to 1-3/4 pounds

1

16 ounce package wide egg noodles

1

15.25 ounce can whole kernel corn

Salt

Pepper

Water as needed
Instructions
Preheat a large electric frying pan to 300 degrees Fahrenheight

(If using a standard frying pan, use medium heat.

Place pork chops in the electric frying pan and season with salt and pepper.

Fry until golden brown, turning once or twice.

Turn off the heat, remove pork chops to a plate and let cool slightly. Keep the pan drippings! You will use them later.

Place the pork chops on a cutting board and cut each into bite size pieces, approximately 1/2". Discard the bone and large pieces of fat.

Place the cut pork chops back into the electric frying pan.

Prepare the wide egg noodles as directed on the package, cooking only until al dente. Do not over-cook the noodles. Drain.

Turn the heat back on to your electric fryer at 300 degrees Fahrenheit.

Using a flat plastic spatula, gently scrape the pan drippings so they become loose. Add about 1/4 cup water to the fryer.

Add in the cooked noodles and corn.

Add more salt and pepper as desired.

Place the glass lid on the fryer and steam everything for about 5 minutes or until heated.

Add in more water as needed, 1/4 cup at a time.

Place in a serving bowl and you are ready to eat.
More Recipes for the Grill
Six Layer Grilled Chicken Burritos
How To Make The Best Grilled Chicken
Family Friendly Dinner Ideas
Homemade Chili Recipe With Kidney Beans
Grilled Beef And Veggie Kabobs
Corn Cheese Spaghetti Casserole
Brown Sugar Ham Glaze With Spices
Easy Mini Slider Cheeseburgers
Cheddar Cheese Meatloaf Recipe
Ground Beef Shepherds Pie Recipe
Great Date Night Dinner Ideas
Make At Home Southern Fried Chicken