Do you love Taco Bell's crunchwraps? Find out how to make your own homemade crunchwrap supreme for a great family dinner.
I don't eat a lot of fast food, but when I do, Taco Bell is one of my favorite places. I love their selection and how innovative they are in their food. One of the things our family loves is to recreate some of those dishes and this one turned out great.
My son and husband love this meal and it has become a go-to favorite for a fun weekend dinner.
*This post may have affiliate links, which means I may receive a small commission if you choose to purchase through links I provide (at no extra cost to you). Thank you for supporting the work I put into this site!
The only recommendation I have is to eat them right away. The leftovers will still taste good, but they won't stay crunchy.
Check out the step-by-step photos or scroll to the bottom for the recipe.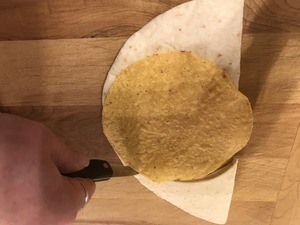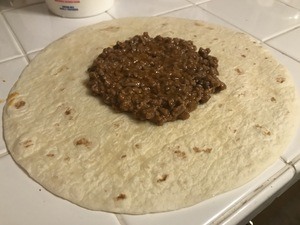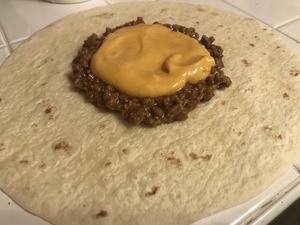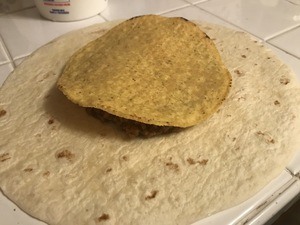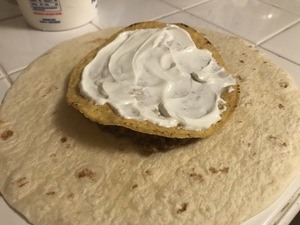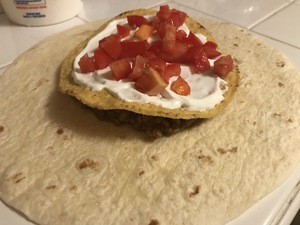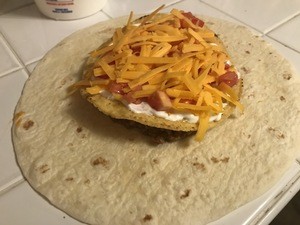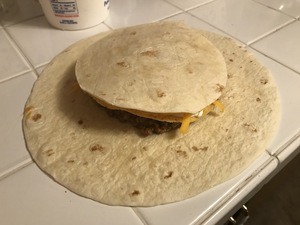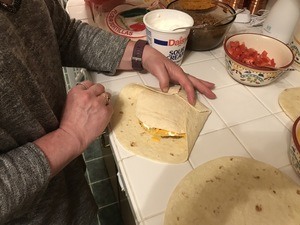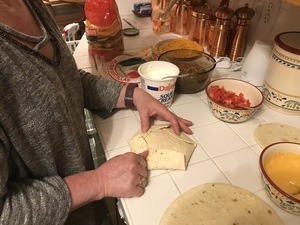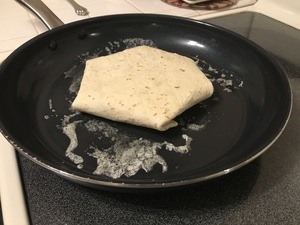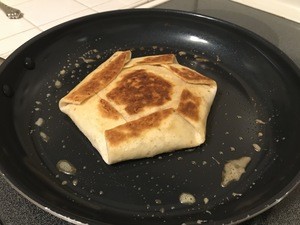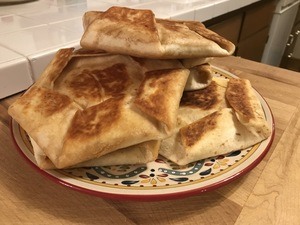 Fetch Rewards Referral Code: MXUXX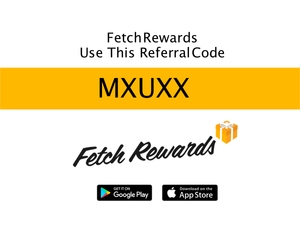 Are you ready to save money on your grocery bill and earn gift cards from your efforts? Use my
Fetch Rewards Referral Code MXUXX
and get 2,000 points. It's a free app that turns grocery receipts into rewards.
Click here to read my Fetch Rewards review on how it works.
Just scan any grocery or gasoline receipt, and earn points towards awesome rewards. You'll earn on all matched brands and products and gain access to exclusive offers that earn you even more points. No more entering codes, completing tasks or jumping through any hoops! Just scan your grocery receipt, and get rewarded.
Click here to download the FetchRewards app.
Use my Fetch Rewards Referral Code: MXUXX
You can find more money saving referral codes here:
Referral Code Master List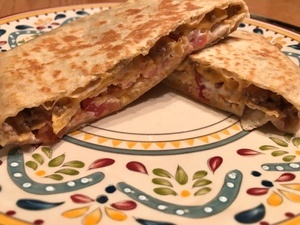 Print Recipe
Homemade Crunchwrap Supreme with Beef
Do you love Taco Bell's crunchwraps? Find out how to make your own homemade crunchwrap supreme for a great family dinner.
Ingredients
1

pound

ground beef

85/15 or leaner

1

ounce

package Taco Bell Taco Seasoning Mix

3/4

cup

of water

1

10-pack of La Banderita Extra Large flour tortilla shells (dinner plate size)

1

package Crunchy Corn Tostadas

1

15 ounce jar Taco Bell Mild Queso Sauce

2-3

Diced Roma Tomatoes

diced tiny

1

cup

Sour Cream

2

Cups

Shredded Cheddar Cheese

1

bottle Taco Bell Fire Sauce
Instructions
Brown and crumble the ground beef in a frying pan.

Add the taco seasoning mix and water to the ground beef as directed on the seasoning package. Cook until thickened.

Remove from the heat and place in a separate bowl to cool.

Take one of the flour tortilla shells and fold it in half. Take out one tostada to use as a circle template. With a small paring knife, cut circles out of the flour tortilla shell. See photos above. Make 6 circles and set aside.

In a microwave safe dish, warm up the queso sauce so it is spreadable. Set aside.

Dice tomatoes and set aside.

Shred the cheddar cheese if necessary and set aside.

Stir the sour cream container and set aside.
Assembly:
Place a large flour tortilla on a flat surface.

Place a scoop of ground beef mixture and spread in a small circle.

Spread the queso cheese sauce over the ground beef.

Cover beef and cheese with a crunchy tostada shell.

Spread sour cream over the tostada shell.

Sprinkle Tomatoes over the sour cream.

Sprinkle cheese over the sour cream and tomatoes.

Place the flour tortilla center on top.

Begin folding the crunchwrap and continue folding so that it has six sides.

Place crunchwrap in a frying pan on medium head and fry for a minute or two. It will brown quickly, so do watch it closely.

Fllip and fry on the second side for an additional minute or two.

Place on serving plate and continue to fry the remaining crunchwraps.

Serve with Taco Bell Fire Sauce on the table.
Notes
It really helps to have a second person help with this recipe. One person can be frying the crunch wrap while the other person can be preparing the next one. That keeps things moving in the kitchen and dinner will be on the table quicker.
Family Friendly Dinner Ideas
Homemade Chili Recipe With Kidney Beans
Grilled Beef And Veggie Kabobs
Corn Cheese Spaghetti Casserole
Brown Sugar Ham Glaze With Spices
Easy Mini Slider Cheeseburgers
Cheddar Cheese Meatloaf Recipe
Ground Beef Shepherds Pie Recipe
Great Date Night Dinner Ideas
Make At Home Southern Fried Chicken