Try these easy grilled beef and veggie kabobs for a fun and tasty alternative to basic hamburgers. Add pineapple, mushrooms, peppers, and more and make your own combination.
What do you do when you have grilled brats, hamburgers, and steaks just a bit too often and want something different? Try these beef and veggie kabobs.
Made with green and red bell peppers, fresh pineapple chunks, mushrooms, onions, and beef tenderloin, they are a great way to add in vegetables to a meal, both for adults and children.
*This post may have affiliate links, which means I may receive a small commission if you choose to purchase through links I provide (at no extra cost to you). Thank you for supporting the work I put into this site!
The kabobs are marinated before hand to keep the meat tender and add a great flavor. Because you prep them ahead of time they are nice for a small summer party. Just make them up a few hours before the party, clean up the kitchen, and they will be ready to go on the grill when you want to eat dinner.
If you have vegetarian guests, consider making up a few skewers with the vegetables only. This also goes for those guests with individual preferences. You might want to make up some without mushrooms or other vegetables.
Fetch Rewards Referral Code: MXUXX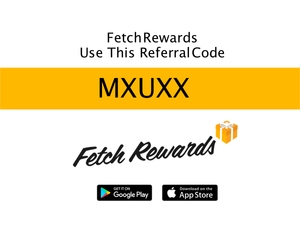 Are you ready to save money on your grocery bill and earn gift cards from your efforts? Use my
Fetch Rewards Referral Code MXUXX
and get 2,000 points. It's a free app that turns grocery receipts into rewards.
Click here to read my Fetch Rewards review on how it works.
Just scan any grocery or gasoline receipt, and earn points towards awesome rewards. You'll earn on all matched brands and products and gain access to exclusive offers that earn you even more points. No more entering codes, completing tasks or jumping through any hoops! Just scan your grocery receipt, and get rewarded.
Click here to download the FetchRewards app.
Use my Fetch Rewards Referral Code: MXUXX
You can find more money saving referral codes here:
Referral Code Master List
You can get creative with the vegetables too. Try zucchini, squash, or cherry tomatoes in place of the mushrooms. I recommend about 3-5 different vegetables for the skewers at one time. If you have too many types it becomes difficult to fit them all on the skewers. I used about 3 pieces of steak tenderloin per skewer.
The key to having these turn out good on the grill is to keep the size of the pieces fairly consistent. That way they will cook evenly and not risk falling off the skewers.
You can cook these on a charcoal or gas grill and they are great for Mother's Day, Father's Day and any other summertime grilling occasion.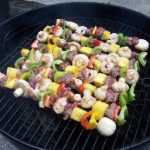 Print Recipe
Grilled Beef And Veggie Kabobs on the Grill
Try these easy grilled beef and veggie kabobs for a fun and tasty alternative to basic hamburgers. Add pineapple, mushrooms, and more and make your own combination.
Ingredients
1

pound

beef tenderloin

1

green bell pepper

1

red bell pepper

1

yellow bell pepper

1-8

ounce

package medium sized mushrooms

1-8 to 12

ounce

container fresh pineapple chunks

1-8

ounce

to 12 ounce bottle Robusto Italian dressing

12

wooden or metal skewers
Instructions
Cut the beef tenderloin into 1" to 1-1/2" chunks.

Seed and cut each of the bell peppers into 1" chunks.

Clean the mushrooms by brushing them off with a paper towel.

If necessary, cut the pineapple (if whole) into 1" chunks.

Load each of the skewers with the fruits, meat, and vegetables to your liking. Skewer in the center of each piece so it stays in place well.

Place the skewers on a 10" x 15" baking sheet or in a 9" x 13" glass baking dish. Line the pan with aluminum foil if necessary.

Brush each of the skewers with Robusto Italian dressing, turning to get the marinade on all sides.

Cover with plastic wrap and place in the refrigerator for two hours or longer.

Half way through, take out the skewers and brush with more dressing.

When ready, place on the grill and grill for approximately 10 minutes or until the meat is cooked through.

Enjoy!
Notes
You can substitute zucchini, squash, cherry tomatoes or any other firm vegetable. You can also use other cuts of meat like sirloin instead of beef tenderloin.
More Recipes for the Grill
Six Layer Grilled Chicken Burritos
How To Make The Best Grilled Chicken
Family Friendly Dinner Ideas
Homemade Chili Recipe With Kidney Beans
Grilled Beef And Veggie Kabobs
Corn Cheese Spaghetti Casserole
Brown Sugar Ham Glaze With Spices
Easy Mini Slider Cheeseburgers
Cheddar Cheese Meatloaf Recipe
Ground Beef Shepherds Pie Recipe
Great Date Night Dinner Ideas