Jamaican jerk burgers are a juicy grilled hamburger marinated in a flavorful jerk sauce and topped with mango cream cheese and Chipotle mayonnaise.
On one of our recent vacations to Universal Studios in Florida we ate dinner at the Hard Rock Cafe. It is one of our favorite places to eat when we travel and I had a Jamaican jerk burger that evening for dinner. I was so impressed by the taste and appeal of the burger that we attempted to re-create it when we were back home.
After 3-4 attempts we think we have been able to come close to recreating this wonderful burger and it is now one of our favorite weekend dinners.
*This post may have affiliate links, which means I may receive a small commission if you choose to purchase through links I provide (at no extra cost to you). Thank you for supporting the work I put into this site!
This recipe does take some prep time but the results are worth the extra work. If you like a flavorful burger full of Caribbean spices, give this one a go.
Secrets to Tasty Jamaican Jerk Burgers
So, let me lay out some tips to creating this tasty burger:
The bun must be toasted. You can use a large sesame seed hamburger bun, but we found that a Pretzilla pretzel hamburger bun held up better. We did not use the extra salt packets that came with the pretzel buns.
You need to refrigerate the mango cream cheese mixture until right before you are going to serve dinner. Otherwise it gets too soft when it hits the warm hamburger.
I recommend a lean ground beef or Angus beef with a 85%/15% fat ratio. You still want flavor in your burger, so I would not recommend going any leaner, but you also don't want to use a beef that is high in fat. 80%/20% hamburger could work, but I prefer the 85%/15% ratio.
This burger is meant to be grilled. It just won't be the same if you attempt to make it on a griddle or in a frying pan.
The arugula lettuce is a must to balance the flavors. The peppery bite of baby arugula contrasts the sweet mango and cream cheese, so even if you don't think you like arugula lettuce, I encourage you to buy some for this recipe. The key to arugula is to find the smallest leaves you can. The larger the leaves, the stronger the flavor.
We used banana peppers in this recipe. If you want it spicier you could use another type of pepper.
The entire recipe takes about 1-1/2 hours to make before you are ready to eat.
Fetch Rewards Referral Code: MXUXX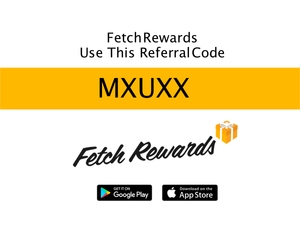 Are you ready to save money on your grocery bill and earn gift cards from your efforts? Use my
Fetch Rewards Referral Code MXUXX
and get 2,000 points. It's a free app that turns grocery receipts into rewards.
Click here to read my Fetch Rewards review on how it works.
Just scan any grocery or gasoline receipt, and earn points towards awesome rewards. You'll earn on all matched brands and products and gain access to exclusive offers that earn you even more points. No more entering codes, completing tasks or jumping through any hoops! Just scan your grocery receipt, and get rewarded.
Click here to download the FetchRewards app.
Use my Fetch Rewards Referral Code: MXUXX
You can find more money saving referral codes here:
Referral Code Master List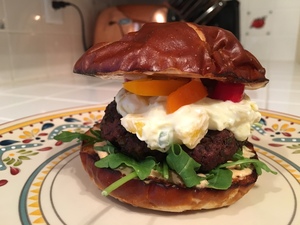 How To Make Jamaican Jerk Burgers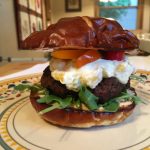 Print Recipe
Jamaican Jerk Burgers
Jamaican jerk burgers are a juicy grilled hamburger marinated in a flavorful jerk sauce and topped with mango cream cheese and Chipotle mayonnaise.
Ingredients
Two pounds good quality ground beef

15% fat

6

pretzel buns

discard any salt packets (Pretzilla brand)

1

cup

sliced banana pepper rings

Baby Arugula lettuce


Chipotle Mayonnaise


1

cup

mayonnaise

3

Tablespoons

orange juice

1

Tablespoon

Chipotle seasoning


Mango Jalapeno Cream Cheese


8

ounces

cream cheese

softened

1/2

fresh ripe mango

diced

1

finely chopped jalapeno pepper


Jerk Marinade


1

bunch green onion

coarsely chopped (about 1-1/2 cups)

1

Tablespoon

chopped fresh thyme

2-3

jalapeno chili peppers OR 1 habanero pepper

sliced

1

garlic clove

peeled

1/2

cup

packed light brown sugar

1/2

cup

vegetable oil

1/2

cup

soy sauce

1

teaspoon

ground allspice

2

Tablespoons

Ketchup

6

Tablespoons

lime juice or the juice of 2 room temperature limes

1/4

teaspoon

cinnamon

1/4

teaspoon

ground ginger

1/4

teaspoon

ground nutmeg

1/4

teaspoon

ground cloves
Instructions
Slice the banana peppers into rings, place in a bowl, and set aside.
Prepare the Chipotle Mayonnaise:
In a bowl, combine the mayonnaise, orange juice, and Chipotle seasoning. Mix well. Cover and refrigerate at least 30 minutes until ready to use.
Prepare the Mango Cream Cheese:
Peel and dice the mango. Depending on the size of the mango you will need about half a mango. You can eat the rest as a snack.

In a bowl combine the softened cream cheese, 1/2 diced mango, and the chopped jalapeno pepper. Mix well. Cover and refrigerate about 30 minutes until ready to use. If it is still too soft, you can place it in the freezer for about 10 minutes.


Prepare the marinade:
In a food processor, combine the green onion, thyme, sliced jalapeno peppers, garlic, brown sugar, vegetable oil, soy sauce, allspice, ketchup, lime juice, cinnamon, ground ginger, nutmeg, and ground cloves and process until pureed.

Form 6 hamburgers with the ground beef.

Place the hamburgers in a shallow glass dish and pour the marinade over the hamburgers. Cover and refrigerate for 30 minutes, turning the burgers once half way through.

Prepare your grill. When ready grill the hamburgers until medium or medium rare.
To Assemble:
Butter and toast the pretzel buns on a griddle or in a frying pan.

Spread a generous layer of Chipotle mayonnaise on the top and bottom of each of the buns.

Add a generous layer of arugula on the bottom bun.

Place the grilled hamburger on top of the arugula lettuce.

Cut a thick slab of mango cream cheese and place on top of the hamburger.

Add a layer of slice banana peppers.

Finish with the top bun.

Enjoy!
Family Friendly Dinner Ideas
How To Make The Best Grilled Chicken
Homemade Chili Recipe With Kidney Beans
Grilled Beef And Veggie Kabobs
Corn Cheese Spaghetti Casserole
Brown Sugar Ham Glaze With Spices
Easy Mini Slider Cheeseburgers
Cheddar Cheese Meatloaf Recipe
Six Layer Grilled Chicken Burritos
Ground Beef Shepherds Pie Recipe
Great Date Night Dinner Ideas