If you are looking for a great date night dish so both of you can cook, this one fits the bill. It is also a fun family meal for a weekend when you have more time to prepare dinner.
The flavors of this dish come through with Kalamata olives leading the show. If you have never tried these Greek olives they have a completely different flavor than a black or green olive. You might just fall in love with them. The only brand I buy is Mezetta Greek Kalamata olives. They are delicious!
I understand sometimes using dried herbs is much easier and fresh herbs may not be available, but if at all possible I wholeheartedly recommend taking the time to purchase fresh herbs for this recipe. Fresh herbs are delicate, but as they go in at the end of the cooking time all of the flavor holds up.
*This post may have affiliate links, which means I may receive a small commission if you choose to purchase through links I provide (at no extra cost to you). Thank you for supporting the work I put into this site!
You prepare the Orzo pasta by starting with four cups chicken broth in a stock pot, and then fill the rest with water. Then add 1 teaspoon of turmeric to the water and bring it to a boil (this is optional). Add in your pasta and cook to package directions. The turmeric does not add flavor, but adds a nice yellow color to the pasta. Be sure to rinse out your sink immediately after draining the pasta if you add turmeric to the water, as it will stain white ceramic sinks! You can use a product called Barkeeper's Friend to clean your sink if necessary.
This Mediterranean chicken recipe is one of our family favorites. Try it this weekend!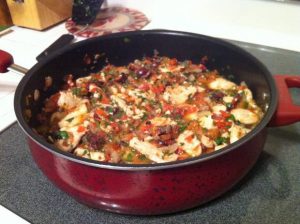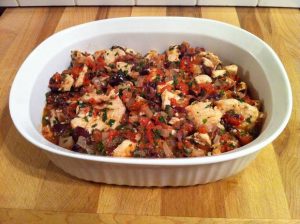 Classic Mediterranean Chicken Recipe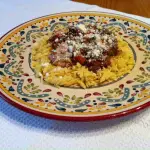 Print Recipe
Mediterranean Chicken Recipe
A flavorful Mediterranean chicken recipe served on a bed of Orzo pasta with Feta cheese. Chicken breast simmered in tomatoes, white wine, and garlic with Kalamata olives and fresh herbs.
Ingredients
2

teaspoons

olive oil or butter

2

Tablespoons

white cooking wine

1-1.5

pounds

boneless skinless chicken breast

3

cloves

garlic

minced

1/2

cup

diced onion

3

cups

tomatoes

chopped

1/2

cup

white cooking wine

2

teaspoons

chopped fresh thyme

1

Tablespoon

chopped fresh basil

1

cup

chopped Mazetta Kalamata olives

1/4

cup

chopped fresh parsley

salt and pepper to taste

1-16

ounce

package orzo pasta

4

cups

chicken broth

1

teaspoon

turmeric

optional

6

ounces

Feta Cheese
Instructions
Preparation:

Pound the chicken breast with a meat pounder a few times. Cut the chicken crosswise into small strips. Cut into bite size pieces and set aside.

Chop the onions and set aside.

Chop the tomatoes and set aside.

Pick the leaves off the fresh herbs, chop fine, and place in separate bowls. Set aside.

Pit and chop the Calamata olives and set aside.



Pasta Preparation:

In a large stock pot add the chicken stock. Add enough additional water to boil a pound of pasta (6-8 cups total. Add in turmeric for color (optional - as it can stain your sink).

Bring water to a boil, add the orzo, and cook according to package directions.

Drain and place in a serving dish. Add a tablespoon of butter or oil to the pasta so it doesn't stick together when cooking the chicken.

Cooking Instructions:

Heat the oil and two tablespoons white cooking wine in a large nonstick skillet over medium heat. add chicken and saute about 5-7 minutes until mostly cooked through. Remove the chicken from the pan and place in a bowl.

Add the garlic to the pan drippings and saute for about one minute. Stir in the onion and saute for 3 additional minutes. Add the tomatoes and allow the mixture to come to a boil.

Reduce the heat and add 1/2 cup white wine and simmer for 10 minutes.

Add thyme and basil and simmer for 5 more minutes.

Return the chicken to the skillet and cover. Cook over low heat until the chicken is cooked completely through and no longer pink. Add the olives and parsley to the skillet and cook for 1 minute. Season with salt and pepper.



To Assemble:

Place a few large spoons of orzo pasta on the plate. Spoon the chicken mixture over the orzo. Sprinkle with Feta cheese and serve. Yummy!
Family Friendly Dinner Ideas
Fetch Rewards Referral Code: MXUXX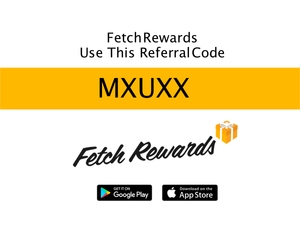 Are you ready to save money on your grocery bill and earn gift cards from your efforts? Use my
Fetch Rewards Referral Code MXUXX
and get 2,000 points. It's a free app that turns grocery receipts into rewards.
Click here to read my Fetch Rewards review on how it works.
Just scan any grocery or gasoline receipt, and earn points towards awesome rewards. You'll earn on all matched brands and products and gain access to exclusive offers that earn you even more points. No more entering codes, completing tasks or jumping through any hoops! Just scan your grocery receipt, and get rewarded.
Click here to download the FetchRewards app.
Use my Fetch Rewards Referral Code: MXUXX
You can find more money saving referral codes here:
Referral Code Master List
How To Make The Best Grilled Chicken
Homemade Chili Recipe With Kidney Beans
Grilled Beef And Veggie Kabobs
Corn Cheese Spaghetti Casserole
Brown Sugar Ham Glaze With Spices
Easy Mini Slider Cheeseburgers
Cheddar Cheese Meatloaf Recipe
Six Layer Grilled Chicken Burritos
Ground Beef Shepherds Pie Recipe
Great Date Night Dinner Ideas