Popovers are an easy quick bread made with milk, flour, eggs, and vegetable oil. They turn out light, fluffy, airy, and golden brown. Load them with butter and serve them for breakfast or brunch.
Oh my! Popovers are one of my favorite breakfast treats. If this is your first time making them you are in for something special! They rise high in the oven and are meant to be eaten immediately. Popovers are light and fluffy and once you crack them open the steam escapes to reveal pockets for plenty of butter.
Have everyone sitting down at the breakfast table ready and waiting for them to come out of the oven. Serve them immediately hot from the oven with plenty of butter and crisp bacon or sausage on the side for a very enjoyable and decadent meal. Have coffee and orange juice on hand.
*This post may have affiliate links, which means I may receive a small commission if you choose to purchase through links I provide (at no extra cost to you). Thank you for supporting the work I put into this site!
Note: Any diet you happen to be on may be dented a bit, but they taste best when slathered with butter – a lot of butter. Consider yourself warned!
What is a Popover?
Popovers are a wonderful treat and a one of a kind item. They are different than traditional muffins and breads, as there is no leavening used in the recipe.  They are some of the best breakfast food you can eat, in my humble opinion.
Fetch Rewards Referral Code: MXUXX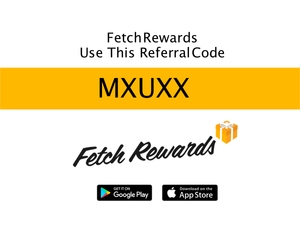 Are you ready to save money on your grocery bill and earn gift cards from your efforts? Use my
Fetch Rewards Referral Code MXUXX
and get 2,000 points. It's a free app that turns grocery receipts into rewards.
Click here to read my Fetch Rewards review on how it works.
Just scan any grocery or gasoline receipt, and earn points towards awesome rewards. You'll earn on all matched brands and products and gain access to exclusive offers that earn you even more points. No more entering codes, completing tasks or jumping through any hoops! Just scan your grocery receipt, and get rewarded.
Click here to download the FetchRewards app.
Use my Fetch Rewards Referral Code: MXUXX
You can find more money saving referral codes here:
Referral Code Master List
They rise light and fluffy and when baked turn out lightly browned, tall and light and airy inside. I think they taste best with just butter, but I have seen some variations around on the internet including filling them with jam or other savory fillings like a mushroom mixture. You can fill them with whatever you wish, but I will say I am a traditionalist when it comes these. I just want them plain and piping hot with a lot of butter.
Do You Need a Special Popover Pan?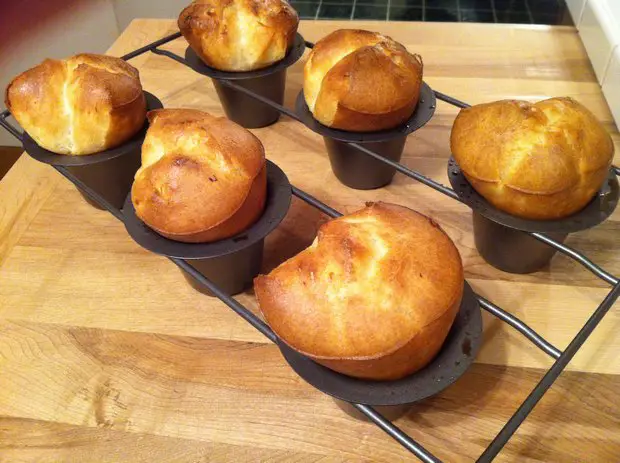 A note on the special popover pan – there seems to be this battle over whether or not you need a special pan in order to make popovers rather than a standard muffin tin. I think that a good popover pan is a piece of bake ware that a well-stocked kitchen needs to have.
About 20 years ago a friend of ours was visiting our home and asked if I would make popovers for breakfast. I asked him what they were as I had not had them before. He called his mom and got the recipe and we made them that morning. They were heavenly!
Well, at the time I didn't have a specialty pan to bake the popovers in, so I used a standard muffin pan. While they turned out pretty good and tasted wonderful, they didn't rise very high like our friend explained they should. After a few years I found these wonderful popover pans and now with the right pans for the job, my popovers turn out looking like they should along with tasting great. That is why you need a special pan created for the job.
How many times have you decided against trying a new recipe because you lacked the right piece of bake ware? It can be frustrating when you need to substitute and your recipe does not turn out like you intended. Investing in a good quality pan for popovers means having the right tool for the job and can last many years.
A popover pan like this one can also be used to bake large muffins and you can fit 2 pans side by side in a standard oven. One of the unique features of this pan is the cups are positioned farther apart than a standard muffin tin and are held from crossbars. They have a wide lip around the edge so each popover can spread out. Deep tapered cups that are deeper than they are wide promote even baking and better air circulation allowing them to rise high. Also, the cross bars allow you to remove the pan from the oven with mitts without denting the steaming popovers.
Heavenly Breakfast Popovers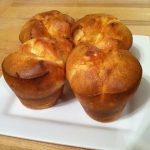 Print Recipe
Heavenly Popovers
Popovers are a quick and easy bread recipe made with milk, flour, eggs, and vegetable oil. Light, fluffy, airy, and golden brown, load them with butter and serve them for breakfast or brunch.
Ingredients
1

cup

flour

1

cup

milk

2

eggs

1/2

teaspoon

salt

1

Tablespoon

vegetable oil
Instructions
Preheat oven to 425 degrees. Spray the pan with non-stick cooking spray.

Mix all ingredients in a medium mixing bowl with a whisk.

Divide batter and ladle equal portions into each muffin cup.

Do not leave the batter sit! Bake immediately for best results. (I know this from experience!)

Check for doneness in 25-30 minutes. Remove when smooth and golden brown. Do not overbake.

Once removed from the oven, loosen and tilt them slightly to let the steam escape or they will sog out quickly.

Makes 6. You may need to make a double batch as these will disappear quickly! Figure at least 2 per person.

Prepare your fried bacon and any other dishes while they are baking so that everything is ready and the table is set when these come out of the oven.

A specialty pan isn't a complete necessity, but your pop overs will bake higher and be lighter in an proper pan than in a muffin tin.
More Quick Bread Recipes
Grandma's Favorite Banana Bread
Strawberry Bread Recipe With Cinnamon And Vanilla Glaze
Old-Fashioned Butterscotch Bread