This classic taco salad recipe is made with ground beef, onion, green pepper, tomato, kidney beans, cheese, taco chips, and Western dressing. Serve this recipe for a summer picnic or take a batch of it along to a potluck.
It seems difficult to think how many years this particular recipe has been made for our extended family gatherings. I think I can remember it being served as far back as the mid to late 1970's. Taco salad is one of those tasty summer classics that seems to stand the test of time.
Back To The Original Classic Taco Salad Recipe
There are now so many different types of taco salad recipes available online it can be difficult to know which one tastes the best. I prefer this recipe over others as it uses actual taco chips, not another flavor of chips. I think this is one of the more important aspects of keeping this recipe original.
*This post may have affiliate links, which means I may receive a small commission if you choose to purchase through links I provide (at no extra cost to you). Thank you for supporting the work I put into this site!


Also, I have noticed different types of dressings used in other recipes. I always use Western dressing with this recipe. It has just the right amount of sweetness and tang.
This salad recipe is a favorite with our friends and family and makes enough to serve 12 (maybe more), so it is a good summer picnic food.
Crunchy taco chips and tangy Western dressing make this a quick and easy recipe to put together. The addition of ground beef and kidney beans makes it a meal in itself. Serve with fresh fruit and other picnic fare.
How To Make A Taco Salad Ahead Of Time So It Doesn't Get Soggy
I thought I would include this piece as this recipe tends to find itself at picnics or large gatherings often. Sometimes when you arrive you won't be eating for quite a few hours. If you have mixed the salad all together what ends up happening is your taco chips get soggy. It loses a lot of the characteristic crunch and can fall flat as a salad.
In order to avoid this happening, here is what I do to prepare for travel:
In a large bowl with a cover, combine all ingredients as directed within the recipe EXCEPT the taco chips and Western dressing. Then, in a separate paper or plastic bag, crush up the taco chips in small pieces so they are ready to go. Place the lid on the salad and keep it chilled while traveling and right up until serving time. Make sure to pack the chips and dressing with you as well as a couple of large forks and spoons for mixing. When ready to serve add in the taco chips and dressing and toss to coat everything well.
The result? A crispy, crunchy cold salad ready for everyone to enjoy.
I snapped a photo of the salad mixed up right before I added the dressing and taco chips. I love the bright colors!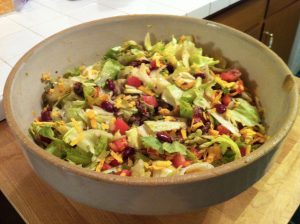 Like my extra-large stoneware crock mixing bowl?
It was my Grandma's, but you can find one like it here on Ebay.
Want to Save Money on Groceries?
Who doesn't? Save money no matter where you shop and get real cash back with this app and this app.
Classic Taco Salad Recipe
Classic Taco Salad Recipe
This classic taco salad recipe is made with ground beef, onion, green pepper, tomato, kidney beans, cheese, taco chips, and Western dressing. Serve this recipe for a summer picnic or take a batch of it along to a potluck.
Author:
Laura Warnke - VintageCooking.com
Instructions
In a large frying pan, brown the ground beef and crumble in the pan. Drain and cool completely.
Chop your lettuce, onion, and green pepper and place in a very large mixing or serving bowl. Use less onion if you wish.
Rinse and drain the kidney beans well in a strainer. Add them to the other ingredients.
Cut the tomatoes into wedges and add them into the mixture.
Shred the cheddar cheese and toss with the other ingredients. Add in the cooled hamburger and mix together well.
Just before serving take handfuls of taco chips and crush 7 ounces and add it to the taco salad recipe. Pour a small bottle of Western dressing over all and mix thoroughly.
Notes
Helpful Hints:

* Add the crushed taco chips and dressing no sooner than 30 minutes before serving or the chips will become a bit soggy.

* If your salad does become soggy after sitting in the refrigerator as a leftover, just crunch up some more taco chips and mix in before serving.

* Western dressing is similar to a French dressing, except that it is not as sweet. It is tangier and imparts a nice flavor. You could possibly substitute Catalina dressing if Western is not available.

Makes a generous 12 servings.
More Summer Salad Recipes
Spaghetti Pasta Salad
Fresh Cucumber Salad Recipe
Classic Pesto Pasta Salad
Fresh Summer Corn Salad
Creamy Cucumber Salad
Homemade Potato Salad Recipe
Chicken Salad Recipe
Fresh Broccoli Salad Recipe
Copper Penny Carrot Salad
Four Bean Salad Recipe
Marinated Tomato Recipe
Crunchy Summer Corn Salad with Chili Cheese Corn Chips
Homemade Freezer Cole Slaw Recipe