An American homemade potato salad recipe made with Russet potatoes, hard cooked eggs, mayonnaise, onion, green pepper, and yellow mustard. Serve for brunch, dinner, or a summer picnic.
This is a traditional potato salad where you cook the potatoes and eggs the night before, chill them, and then assemble the ingredients the next morning. You let the flavors work together all day and it will be ready to serve that evening.
Potato salad is a classic picnic food that can also be used as a side dish for dinner or a grill-out night. It goes over well at a family get-together, graduations, or at a barbecue.
*This post may have affiliate links, which means I may receive a small commission if you choose to purchase through links I provide (at no extra cost to you). Thank you for supporting the work I put into this site!
Learning how to make potato salad may seem a bit daunting at first if you have not made it before. When my husband and I first set out to make this potato salad recipe, we were warned not to overcook the potatoes. I have included a few tips below as part of the recipe on what we have learned about cooking the potatoes.
Serve this potato salad recipe with any grilled food like hamburgers, bratwurst, or chicken. You can also serve potato salad for brunch or take along to a family picnic.
Fetch Rewards Referral Code: MXUXX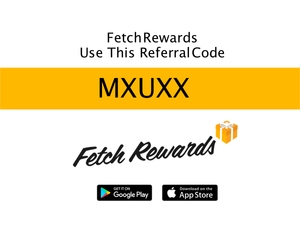 Are you ready to save money on your grocery bill and earn gift cards from your efforts? Use my
Fetch Rewards Referral Code MXUXX
and get 2,000 points. It's a free app that turns grocery receipts into rewards.
Click here to read my Fetch Rewards review on how it works.
Just scan any grocery or gasoline receipt, and earn points towards awesome rewards. You'll earn on all matched brands and products and gain access to exclusive offers that earn you even more points. No more entering codes, completing tasks or jumping through any hoops! Just scan your grocery receipt, and get rewarded.
Click here to download the FetchRewards app.
Use my Fetch Rewards Referral Code: MXUXX
You can find more money saving referral codes here:
Referral Code Master List
Begin this recipe the evening before you are planning on serving it.
Homemade Potato Salad Recipe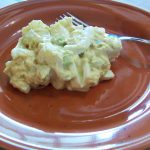 Print Recipe
Homemade Potato Salad Recipe
Begin this recipe the evening before you are planning on serving it.
Ingredients
3

pounds

Red Russet potatoes

6

hard cooked eggs

1/2

cup

finely chopped green pepper

1/2

cup

finely chopped Vidalia onion

mild onion

1

cup

Hellman's Mayonnaise

1/4

cup

yellow mustard

1-1/2

teaspoons

salt to taste

1/2

teaspoon

pepper to taste

1

teaspoon

cayenne pepper or Cajun seasoning


Kitchen Equipment Needed
Large kettle for cooking potatoes

Medium kettle for cooking eggs

Large mixing bowl


Instructions
The night before:
The evening before, scrub and wash three pounds of Red Russet potatoes. Do not peel the potatoes at this point. Place in a large kettle and boil the potatoes with the skins on until a fork inserted pulls out very easily, about 20 minutes or so. Remove from the heat and run cold water on the potatoes. Remove the skins from the potatoes with a knife, vegetable peeler, or your fingers. Place in a large bowl and cover the potatoes with cold water and place in the refrigerator overnight.



To make the hard cooked eggs, place six eggs in a kettle and bring to a boil. Boil for 2-3 minutes. Remove from the heat and put a lid on the kettle for about 10-13 minutes. Place the kettle in the kitchen sink and run cold water on it for 3-5 minutes. Let the eggs sit in the cold water. Drain and dry the eggs and place in the refrigerator overnight to chill. You can also use an egg cooker if you have one.


The next morning:
Cube the cooked potatoes into 1/2" cubes and place in a large mixing or serving bowl.



Peel and slice the hard cooked eggs and add to the potatoes.



Finely chop the green pepper and onion and add to the bowl.



Add in the mayonnaise, mustard, salt, pepper, and cayenne pepper.



Stir until everything is well mixed.



Cover the bowl with plastic wrap or a lid and refrigerate for 4-6 hours to allow the flavors to combine.


Tips for cooking the potatoes:
One of the things we were warned about when making potato salad was not to over-cook the potatoes because they will turn into a starchy mess. In our first attempt, we ended up under-cooking the potatoes, because we didn't want this to happen.



To check if your potatoes are cooked enough, insert a fork into one of the potatoes and if it can be speared very easily, they are probably cooked enough. If the fork sticks at all, keep cooking them for a few more minutes.



For the potato salad recipe above it took about 20 minutes to cook 3 pounds of potatoes. This may vary depending on the stove and cooking temperature.



In our second attempt, I thought I had cooked the potatoes too long, but after the potatoes are skinned and refrigerated overnight, they end up holding their body quite well. Refrigeration is key to having the potatoes firm enough to dice, yet soft and cooked. The potatoes will regain much of their firmness once in the refrigerator overnight.
Notes
This potato salad recipe makes 10-12 servings.
More Cold Salad Recipes