Heirloom raisin muffins are made with raisins, butter, sugar and egg. This muffin recipe has moist plump raisins in the batter because you simmer the raisins to allow them to retain moisture. Serve for breakfast or brunch.
My mom used to make these when I was growing up. What I remember most about them was the soft, plump raisins. Not every recipe has this special touch. They are good with or without butter on them.
This muffin recipe tastes wonderful served fresh and warm and they also reheat well in the oven or microwave.
*This post may have affiliate links, which means I may receive a small commission if you choose to purchase through links I provide (at no extra cost to you). Thank you for supporting the work I put into this site!


These raisins in these muffins are plump and moist, not hard and dry.
The batter is just sweet enough that the children will grab these muffins right away, but not overwhelmingly sweet so the adults can enjoy them also.
They are at their best served warm. All you need is a pat of butter on these warm delicious muffins and they will be ready to serve for breakfast or brunch.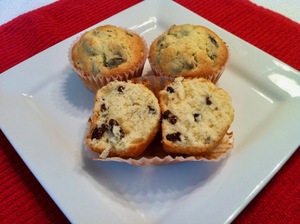 Heirloom Raisin Muffins
Heirloom Raisin Muffins
This recipe is from my mom's recipe box collection.
Author:
Laura Warnke - VintageCooking.com
Ingredients
1 cup fresh raisins
1 cup water
½ cup soft butter
¾ cup granulated sugar
2 eggs
1-1/2 cups sifted flour
1 teaspoon baking powder
½ teaspoon salt
Instructions
Place 1 cup water in a 2 cup glass measuring cup. Add raisins until the liquid is up to the 2-cup line (or less if you don't like raisins as well). Place in microwave for 2.5 to 3 minutes on high. Set aside on counter to cool until you measure other ingredients.
Preheat oven to 400 degrees. Grease muffin pan with cooking spray or butter.
Put ½ cup soft butter in mixing bowl. Beat with wooden spoon until fluffy...30 seconds or so.
Add ¾ cup sugar and beat until well mixed.
Add 2 eggs. Beat again until well mixed.
Add flour, baking powder and salt and mix together, just until moistened.
Pour the raisin liquid into a separate cup. Add the drained raisins to the muffin batter.
Add a scant ¼ cup of raisin liquid to the batter and mix together. Do not over mix. This batter will be runnier than many other muffin recipes.
Line a standard size muffin pan (12) with paper liners or grease each muffin cup.
Spoon batter into each muffin cup, filling ¾ full.
Bake 15 to 18 minutes or until golden brown.
Notes
Serve warm. Makes 12 raisin muffins.
Sweet and Savory Muffin Recipes
Chocolate Cinnamon Applesauce Muffin Recipe
Lemon Poppy Seed Muffins With Yogurt For Brunch
Blueberry Cream Cheese Muffins
Simple Bran Flake Muffins Recipe