Chopped ham tea sandwiches are filled with ham, cheese, egg, sour cream, green onions, and chopped pecans. Serve them for an afternoon tea party or part of a summer brunch menu. They would also be a nice addition to a bridal or baby shower menu.
In the photo, there are three different ways to serve these sandwiches. The triangle finger sandwiches in the middle of the photo are what you would serve for a "proper" tea party and would be considered "fussy" or "dainty", but they are easy to make with instructions below.
Serving Tea Sandwiches
When placed on a serving platter using a variety of breads, they make a nice presentation.  I think they just seem more fun to eat with the crusts removed from the bread.
*This post may have affiliate links, which means I may receive a small commission if you choose to purchase through links I provide (at no extra cost to you). Thank you for supporting the work I put into this site!
You can also serve this spread on mini croissants for a brunch. You can also use a sourdough cocktail bread and spread on a thin layer or just spread it on a good tasting wheat or sesame cracker. This ham spread can also be placed in a bowl and served with sesame crackers as an appetizer.
Chopped Ham Tea Sandwiches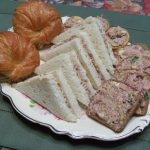 Print Recipe
Chopped Ham Tea Sandwiches
Chopped ham tea sandwiches are filled with ham, cheese, egg, sour cream, green onions, and chopped pecans. Serve them for an afternoon tea party or part of a summer brunch menu.
Ingredients
1

cup

diced cooked deli ham

1

hard cooked egg

2

Tablespoons

green onions

1/2

cup

shredded medium or sharp Cheddar cheese

1/2

cup

unsalted finely ground pecans

2/3

cup

dairy sour cream
Instructions
Coarsely chop 1 cup of cooked deli ham and place in mixing bowl.

Chop fine one hard cooked egg and 2 Tablespoons green onions and add into the bowl.

Add in 1/2 cup medium or sharp shredded Cheddar cheese and 1/2 cup finely ground pecans. (If you use regular chopped pecans; place them on a cutting board and chop them as small as you can.)

Add in 2/3 cup dairy sour cream and mix together until well blended.

Refrigerate 2-3 hours before serving so all the flavors have a chance to come together.

When ready to serve, let sit out at room temperature for 30 minutes or so, as it will spread easier. If you are in a hurry, place the bowl in the microwave for 20-30 seconds-just long enough to soften the mixture, but make sure it doesn't get too warm.

To make tea sandwiches:
Take 16 slices of white bread and cut the edges off of the bread, making a square. Cut the bread in half diagonally and place filling on one half of the bread and top with another triangle. For a proper tea party, take care to keep the triangles as uniform as possible as well as the thickness of the filling, as appearance matters. An Italian or French bread would be a nice choice as they are a slightly firmer bread, but a standard soft white bread would work as well.

There is a bit of waste with the extra bread, but perhaps you could feed it to the birds or use it to make a batch of bread pudding.
To make mini-croissants:
Purchase small 3" croissants from the bakery and slice them in half horizontally. Fill with the sandwich spread and place the top of the croissant back into place. A plate full of these looks really appetizing and is quicker to make than the tea sandwiches.
Other Serving ideas:
This spread can also be served on thinly sliced sourdough cocktail bread or on party crackers. You can either make up a platter ahead of time or place the sandwich spread in a nice serving dish and the crackers on a platter or tray and let your guests serve themselves.
Notes
Serves 8. Makes approximately 16 sandwiches at 2 per person.
Makes approximately 3 cups sandwich spread.
The prep time listed only includes the time needed for making the spread, not assembling the sandwiches. Allow yourself extra time to make the sandwiches.
More Brunch Menu Ideas
Chicken Salad Pickle Boats Recipe
Fetch Rewards Referral Code: MXUXX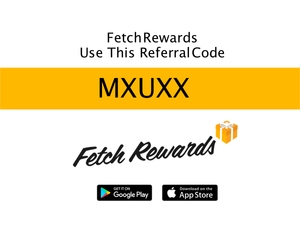 Are you ready to save money on your grocery bill and earn gift cards from your efforts? Use my
Fetch Rewards Referral Code MXUXX
and get 2,000 points. It's a free app that turns grocery receipts into rewards.
Click here to read my Fetch Rewards review on how it works.
Just scan any grocery or gasoline receipt, and earn points towards awesome rewards. You'll earn on all matched brands and products and gain access to exclusive offers that earn you even more points. No more entering codes, completing tasks or jumping through any hoops! Just scan your grocery receipt, and get rewarded.
Click here to download the FetchRewards app.
Use my Fetch Rewards Referral Code: MXUXX
You can find more money saving referral codes here:
Referral Code Master List
More Sandwich Recipes
Tomato Avocado English Muffin Sandwich
How To Make A Homemade Reuben Sandwich
Cranberry Chicken Salad Recipe