A selection of tea sandwich recipes to serve for afternoon tea, as an appetizer, or brunch. Recipes include chopped ham sandwiches, cucumber sandwiches, chicken salad, and more.
A tea sandwich was originally meant as something to stave of hunger in the mid afternoon a few hours before a larger dinner was to be served later in the evening.
These days these fun little finger sandwiches can be used as a quick appetizer for just about any occasion.
*This post may have affiliate links, which means I may receive a small commission if you choose to purchase through links I provide (at no extra cost to you). Thank you for supporting the work I put into this site!
You can also serve them as part of a brunch menu as they are light, colorful, and tasty.
They add a savory flavor to complement many of the sweet offerings of a brunch.
Fetch Rewards Referral Code: MXUXX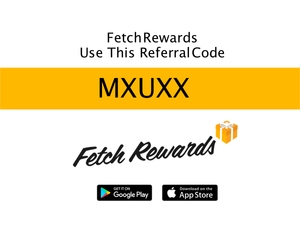 Are you ready to save money on your grocery bill and earn gift cards from your efforts? Use my
Fetch Rewards Referral Code MXUXX
and get 2,000 points. It's a free app that turns grocery receipts into rewards.
Click here to read my Fetch Rewards review on how it works.
Just scan any grocery or gasoline receipt, and earn points towards awesome rewards. You'll earn on all matched brands and products and gain access to exclusive offers that earn you even more points. No more entering codes, completing tasks or jumping through any hoops! Just scan your grocery receipt, and get rewarded.
Click here to download the FetchRewards app.
Use my Fetch Rewards Referral Code: MXUXX
You can find more money saving referral codes here:
Referral Code Master List
They also make a nice display when combined together for an afternoon tea party, bridal luncheon, or shower with or without serving a pot of tea.
Tea Sandwich Recipes
 Chopped Ham Tea Sandwiches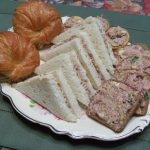 An easy tea sandwich filled with a chopped ham spread that's quick and easy to make along with a variety of ways to serve them. Chopped ham tea sandwiches are filled with ham, cheese, egg, sour cream, green onions, and chopped pecans.
Serve them for an afternoon tea party or part of a summer brunch menu. They would also be a nice addition to a bridal or baby shower menu. Click here for this tea sandwich recipe.
Cranberry Chicken Salad Sandwiches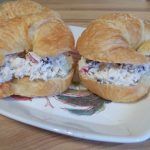 A chicken salad recipe made with chicken, crisp fall apples, dried cranberries, celery, pecans, green onions, and mayonnaise.
Serve this delicious chicken salad for brunch or a luncheon on a croissant along with fresh fruit and a mimosa. Click here for this chicken salad sandwich recipe.
Cucumber Sandwiches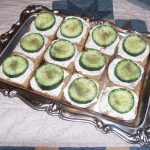 Easy cucumber sandwiches are made from fresh cucumbers and topped with a cream cheese spread on cocktail rye sandwich bread and sprinkled with dill.
Serve this finger food for brunch, a tea party, or as an appetizer.
These are a favorite in our household! Click here for this cucumber sandwich recipe.
Here are a few more brunch favorites to complement your meal:
Classic Veggie Pizza
A classic veggie pizza recipe made with crescent roll dough, a mixture of cream cheese, sour cream, and ranch salad dressing, and topped with chopped vegetables and cheese. Serve this cold pizza for brunch or as an appetizer.
This is a quick and easy recipe that is a hit at family gatherings, parties, or bridal shower.
Click here for this veggie pizza recipe.
Coconut Tea Cookies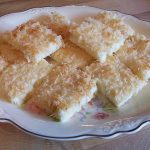 Here is a tasty little cookie recipe to complement your sandwiches.
They are petite and turn out just as you would expect a little tea cookie to look.
And they taste great too! Click here for this coconut tea cookie recipe.
More Tea Party and Brunch Ideas
Putting together your own brunch? Find more brunch menu ideas.
Need tips for hosting a brunch? Try these brunch party planning tips.
More Breakfast and Brunch Ideas
Weekend Brunch – The Best of Breakfast and Lunch
Scrambled Egg Breakfast Pizza Recipe
Quick And Easy Breakfast And Brunch Recipes
Healthy Breakfast Burrito Recipe
Save
Save
Save
Save
Save
Save
Save