A homemade Reuben sandwich made with corned beef, Swiss cheese, sauerkraut and rye bread. Learn how to make this easy sandwich at home.
Can you actually make a perfect Reuben sandwich at home? This is something my husband has been working on perfecting for many years. Over the course of many jobs he has had to travel for work; which means eating out quite a bit.
One of the things he loves is a Reuben sandwich when it is made right. So, if he sees it available on the menu, he will almost always try out the Reuben any chance he gets. He has had so many of them along the years, that he now actually judges the quality of the restaurant by the quality of their Reuben sandwich! If the restaurant can make a good Reuben, the rest of the food is more than likely good too.
*This post may have affiliate links, which means I may receive a small commission if you choose to purchase through links I provide (at no extra cost to you). Thank you for supporting the work I put into this site!
With that being said, his love for this sandwich has inspired him to try making them at home. One of the biggest disappointments about this sandwich is generally the sandwich turns soggy from the liquid in the sauerkraut, thus wrecking the sandwich.
So my husband wanted to improve the sandwich and went about trying a few different methods to achieve the perfect Reuben. After a few tries he had produced an excellent sandwich that I would say could stand up in any restaurant or diner.
Fetch Rewards Referral Code: MXUXX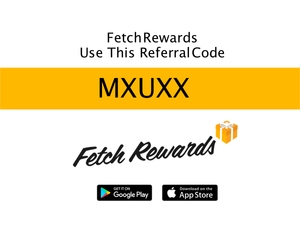 Are you ready to save money on your grocery bill and earn gift cards from your efforts? Use my
Fetch Rewards Referral Code MXUXX
and get 2,000 points. It's a free app that turns grocery receipts into rewards.
Click here to read my Fetch Rewards review on how it works.
Just scan any grocery or gasoline receipt, and earn points towards awesome rewards. You'll earn on all matched brands and products and gain access to exclusive offers that earn you even more points. No more entering codes, completing tasks or jumping through any hoops! Just scan your grocery receipt, and get rewarded.
Click here to download the FetchRewards app.
Use my Fetch Rewards Referral Code: MXUXX
You can find more money saving referral codes here:
Referral Code Master List
The sandwich gets its flavors from cured corned beef and full flavor Swiss cheese. Draining the sauerkraut is very important for this sandwich to turn out good. You also need a high quality Thousand Island dressing for everything to be complete. There are brand references in the recipe below as we have found brands we like better than others.
Homemade Reuben Sandwich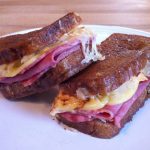 Print Recipe
Homemade Reuben Sandwich
A homemade Reuben sandwich made with corned beef, Swiss cheese, sauerkraut and rye bread.
Ingredients
1

12-16 ounce jar

Frank's prepared Sauerkraut

1

pound

deli corned beef - thinly sliced

1

bottle

Ken's Steakhouse Thousand Island Dressing

10-12

slices

Full Flavor deli Swiss Cheese

sliced thin for sandwiches

1

round loaf

Dark Rye or Marble Rye Bread

sliced (from the bakery)
Instructions
Prepare the sauerkraut:

Using a medium sized fine mesh strainer, drain the sauerkraut. Do this over the sink or place a bowl underneath the strainer to contain the juices. Use the back of a spoon to push all the excess liquid out of the sauerkraut. Do this 2-3 times. Set aside and allow it to continue to drain. (Do not skip this step.)



To Build the Sandwich:

Take 2 slices of dark rye bread and butter the outsides of each slice. (This is similar to how you would make a grilled cheese sandwich.)



On the insides of each slice of bread spread a thin layer of Thousand Island dressing. Place 2 slices of cheese on one of the slices of bread. Generously layer the corned beef on top of the cheese. Add sauerkraut to your liking. Top with the other slice of bread, making sure the buttered side faces outward.



Heat a large non-stick skillet or frying pan to medium high heat. Place the sandwiches in the frying pan and brown. Flip with a large spatula and brown the second side. Watch for the cheese to begin melting.
Notes
This recipe makes at least 4 nice sized sandwiches. Serve with salt and vinegar potato chips on the side.
Draining the sauerkraut is very important for this sandwich to turn out good.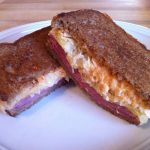 More Sandwich Recipes
Tomato Avocado English Muffin Sandwich