Browned butter potatoes are cooked potatoes with skins left on that are simmered in a beef broth. They are a simple potato recipe that tastes great with quiche or ham.
This is one of my favorite ways to make potatoes. Cooking them in beef broth just brings a great flavor to the entire dish. The browned butter adds a richness that is much different than plain butter. The addition of chopped fresh parsley adds a nice interest to this side dish too.
They make a great side dish with hamburger or a steak, along with being a nice accompaniment for eggs or a brunch menu. Other ideas for pairing these potatoes include quiche, ham, pork, or cooked sausage links. A nice complement to these potatoes would be some type of fruit salad.
*This post may have affiliate links, which means I may receive a small commission if you choose to purchase through links I provide (at no extra cost to you). Thank you for supporting the work I put into this site!
NOTE:  So, browned butter is regular butter that is heated in a pan just to the point in which it begins to brown. It is a fairly easy technique, but you need to stay next to your cook top and keep an eye on it.
Please refrain from multi-tasking while making the browned butter portion or you will quickly end up with burned butter and parsley! (Yes, I have done exactly that, so that is why I am including this helpful hint for you.) 🙂
Fetch Rewards Referral Code: MXUXX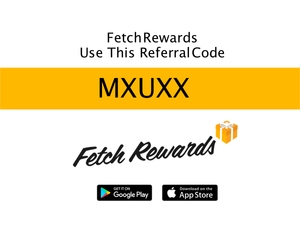 Are you ready to save money on your grocery bill and earn gift cards from your efforts? Use my
Fetch Rewards Referral Code MXUXX
and get 2,000 points. It's a free app that turns grocery receipts into rewards.
Click here to read my Fetch Rewards review on how it works.
Just scan any grocery or gasoline receipt, and earn points towards awesome rewards. You'll earn on all matched brands and products and gain access to exclusive offers that earn you even more points. No more entering codes, completing tasks or jumping through any hoops! Just scan your grocery receipt, and get rewarded.
Click here to download the FetchRewards app.
Use my Fetch Rewards Referral Code: MXUXX
You can find more money saving referral codes here:
Referral Code Master List
This breakfast recipe is from my mom's recipe box collection.
Previous Comments
"Your recipe's look wonderful Laura. I will surely use some for my Bed & breakfast meals. The Brown butter potatoes really look good. Keep up the good work. Your website looks really great. Merry xmas". – Jan K. via FB
Browned Butter Potatoes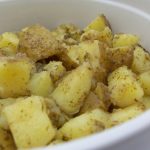 Print Recipe
Browned Butter Potatoes
Browned butter potatoes are cooked potatoes with skins left on that are simmered in a beef broth. They are a simple potato recipe that tastes great with quiche or ham.
Ingredients
2

pounds

of potatoes

small sized

3

cups

of water

1-14

ounce can

prepared beef broth

1/4

cup

butter

1

Tablespoon

parsley

fresh

3/4

teaspoon

salt
Instructions
Cut the potatoes into small wedges, leaving the potato skins on.

Place the potatoes, water, and beef broth in a large saucepan or Dutch oven.

Cover and cook over a medium to high heat until the potato and broth mixture comes to a boil.

Reduce the cooking heat to simmer. Cover and cook until potatoes are fork tender. Drain the potatoes in a colander.

Melt the butter in a small saucepan over medium heat.

Cook until the butter starts foaming and turns a delicate gold color. This will happen rather quickly, so make sure to continually stir the butter during this time in order to prevent burning.

Stir in the fresh parsley and salt.

Pour over the cooked potatoes and stir in the butter to coat evenly.
More Main Dish Potato Recipes
Fluffy Mashed Potatoes
Cheesy Mashed Potato Balls
Creamy Au Gratin Potatoes Recipe
Southern Style Cheesy Potatoes
Ground Beef Shepherds Pie Recipe
Shepherds Pie Recipe
Hearty Shepherds Pie Recipe
Creamy Au Gratin Potatoes With Ham And Peas
Homemade Scalloped Potatoes
Roasted Garlic Mashed Potatoes Recipe
Triple Cheese Potato Casserole
Fried Potatoes Recipe with Ham and Green Onions
Cheesy Shredded Potato Casserole with Ham and Peas
Homemade Potato Salad Recipe
Hash Brown Breakfast Casserole