This hearty shredded potato casserole is made with hash brown potatoes, ham, peas, eggs, onions, and cheese. Serve for an easy weeknight dinner the family will love.
What's better than potatoes and ham for dinner? I suspect this recipe was originally dreamed up as a way to use up leftovers around the house and turn out a decent dinner for hungry farm hands.
This is a versatile recipe as you could substitute beef or chicken in place of the ham or use corn instead of the peas. I used frozen shredded hash brown potatoes in this version, but you could also grate raw peeled potatoes and it would turn out just fine.
*This post may have affiliate links, which means I may receive a small commission if you choose to purchase through links I provide (at no extra cost to you). Thank you for supporting the work I put into this site!


One of the things I found interesting is this recipe does not call for a cream soup. Next time I make this I may experiment with adding a can of cream of chicken soup as it will help thicken the sauce.
Personalized and Vintage Casserole Dishes
Hey! Have you been looking for a new casserole dish or want to find one for a wedding or housewarming gift? Check out these personalized casserole dishes and vintage casserole dishes on Etsy. Really cool! On Etsy you can find so much more than just crafts and handmade items. Check it out.
This recipe is from my mom's recipe box collection.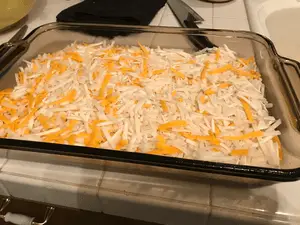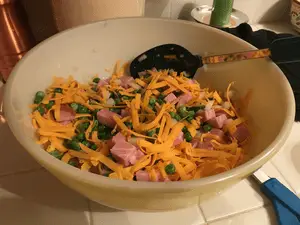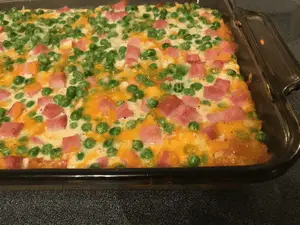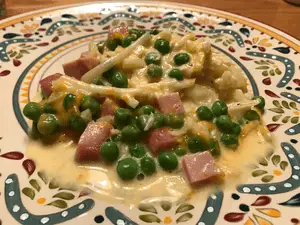 Shredded Potato Casserole
Shredded Potato Casserole with Ham Peas and Cheese
This hearty shredded potato casserole is made with ham, peas, eggs, onions, and cheese. Serve for an easy weeknight dinner the family will love.
Author:
Laura Warnke - VintageCooking.com
Ingredients
2 cups chopped cooked ham
1 cup frozen peas, thawed and drained
1 cup shredded cheddar cheese
1-1/2 cups milk
4 slightly beaten eggs
¼ cup finely chopped onion OR 1 Tablespoon minced dried onion
1 teaspoon salt
½ teaspoon pepper
For Potato Layert:
24 ounces Ore Ida shredded hash brown potatoes, thawed
1 cup shredded cheddar cheese
Instructions
Preheat oven to 350 degrees.
Spray a 9" x 13" glass baking dish with vegetable oil spray.
In a large mixing bowl combine the ham, peas, cheese, milk, eggs, onion, salt, and pepper. Mix well and place to the side.
In a separate mixing bowl, combine the thawed shredded potatoes and the remaining cheddar cheese.
Press the potato mixture onto the bottom and up the sides of the glass baking dish.
Pour the vegetable and ham filling on top of the shredded potatoes.
Bake uncovered for 45-50 minutes or until the center is set.
Let stand 5-10 minutes before serving.
Serve with a crusty bread.
More Main Dish Potato Recipes
Fluffy Mashed Potatoes
Cheesy Mashed Potato Balls
Creamy Au Gratin Potatoes Recipe
Southern Style Cheesy Potatoes
Ground Beef Shepherds Pie Recipe
Shepherds Pie Recipe
Hearty Shepherds Pie Recipe
Creamy Au Gratin Potatoes With Ham And Peas
Homemade Scalloped Potatoes
Browned Butter Potatoes
Triple Cheese Potato Casserole
Fried Potatoes Recipe with Ham and Green Onions
Homemade Potato Salad Recipe
Hash Brown Breakfast Casserole
Roasted Garlic Mashed Potatoes Recipe