A homemade rhubarb sauce made with fresh rhubarb from your garden. Serve this tangy sauce over ice cream, desserts, pancakes, or waffles.
There is something about fresh rhubarb that reminds me of home and of my high school days. It just seems like the rhubarb was ready to pick when it really started to feel like summer, so I always associate cooking rhubarb with the beginning of summer vacation from school.
It is interesting to note that rhubarb is actually a vegetable, but in 1947 a New York court classified it as a fruit, since it is usually used as such. This classification allowed for lower tariffs than if it were classified as a vegetable. (Source:  Wikipedia)
*This post may have affiliate links, which means I may receive a small commission if you choose to purchase through links I provide (at no extra cost to you). Thank you for supporting the work I put into this site!
Regardless if you consider rhubarb a fruit or a vegetable, it is always a treat at our house when the rhubarb is in season.
Of course, sometimes you can find yourself with a whole lot more rhubarb than you bargained for, in which case,  this simple and easy rhubarb recipe is great way to use up rhubarb from your garden.
Fetch Rewards Referral Code: MXUXX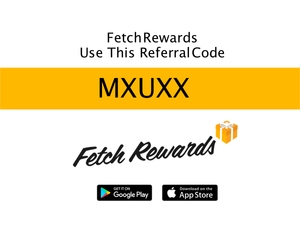 Are you ready to save money on your grocery bill and earn gift cards from your efforts? Use my
Fetch Rewards Referral Code MXUXX
and get 2,000 points. It's a free app that turns grocery receipts into rewards.
Click here to read my Fetch Rewards review on how it works.
Just scan any grocery or gasoline receipt, and earn points towards awesome rewards. You'll earn on all matched brands and products and gain access to exclusive offers that earn you even more points. No more entering codes, completing tasks or jumping through any hoops! Just scan your grocery receipt, and get rewarded.
Click here to download the FetchRewards app.
Use my Fetch Rewards Referral Code: MXUXX
You can find more money saving referral codes here:
Referral Code Master List
This is a basic sauce recipe for rhubarb that you can also cook with cherries or strawberries.
It is great as a topping for bread pudding, yogurt, toast, angel food cake, pound cake, or lemon cake. Try it over vanilla ice cream too! Cool creamy ice cream tastes wonderful with this slightly tart, slightly sweet sauce. It is especially nice for those who don't care for chocolate or caramel toppings.
Additionally, give this sauce a try over pancakes, French toast, or waffles. If you are not one for the traditional pancake toppings, this could be a nice alternative.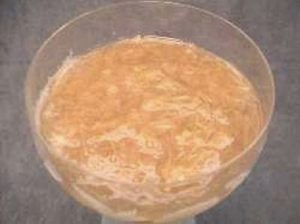 Rhubarb Sauce For Ice Cream and Desserts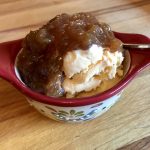 Print Recipe
Rhubarb Sauce for Ice Cream and Desserts
A quick and easy recipe for rhubarb sauce. Serve on desserts, over ice cream, or pancakes and waffles.
Ingredients
1

pound

of garden fresh rhubarb*

3/4

cup

of white granulated sugar

1/8 to 1/4

cup

water

1

teaspoon

vanilla extract

1/2

teaspoon

cinnamon
Instructions
Wash the rhubarb stems well to remove any dirt and debris. Cut off all leaves. Pat dry with a clean towel.

Cut the rhubarb stalks into 1/2 to 1 inch pieces and place in a medium sauce pan. Add sugar and water.

Cook over low to medium heat until the rhubarb is soft and it turns to a sauce.

When sauce is cooked add in the vanilla and cinnamon and stir together.

Serve warm or chilled over your favorite dessert or breakfast item.
Notes
*1 pound of rhubarb = 3 cups chopped rhubarb OR about 4-6 stalks.
More Homemade Ice Cream Recipes
Homemade Vanilla Toffee Ice Cream
Homemade Peanut Butter Ice Cream Recipe
Chocolate Pudding Ice Cream Recipe
Homemade Blueberry Ice Cream Recipe
Homemade Triple Chocolate Ice Cream
Malted Vanilla Ice Cream Recipe with Chocolate Cookie Chunks
Sundae Ideas
Make Your Next Party An Ice Cream Sundae Party!
Unique Ice Cream Sundae Recipes
Homemade Ice Cream Topping Recipes
Butterscotch Sauce Recipe with Three Variations
Raspberry Sauce for Desserts and Ice Cream