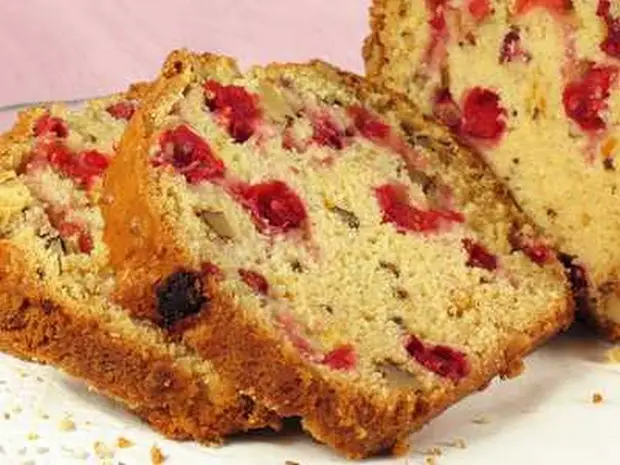 Country fresh cranberry bread is a quick and easy recipe made with plump fresh cranberries, sugar, egg, the juice of an orange and finely ground pecans. Serve this quick bread for breakfast or brunch. Find more quick bread recipes like this cranberry bread here.
This sweet bread can be served warm or cold and with or without real butter. Sweet cream cheese or cream cheese spread also balances well with tart cranberries and makes a nice spread for many sweet breads.
One of the things that makes this quick bread stand out is using fresh cranberries. You can buy full bags of them in the refrigerated section of most larger grocery stores.
Fresh cranberries give an extra burst of flavor that is hard to beat. I use a food processor to coarsely grind up the fresh berries.
It is a delightful combination of a sweet quick bread and tart cranberries. The beautiful dark red cranberries in this recipe will make a colorful addition to your breakfast or brunch menu this weekend. It also looks quite festive on the table when served for a Thanksgiving or Christmas brunch.
Country Fresh Cranberry Bread Recipe
Country Fresh Cranberry Bread
Author:
Laura Warnke - VintageCooking.com
Ingredients
2 cups of sifted flour
½ teaspoon of salt
1-1/2 teaspoons of baking powder
½ teaspoon of soda
1 cup of sugar
1 cup of raw cranberries, ground
1 egg, beaten
2 Tablespoons of melted butter
1 orange
Boiling water
½ cup of finely chopped or ground pecans
Instructions
Preheat oven to 325 degrees.
Sift the first 5 dry ingredients together.
Wash cranberries and grind or pulse in a food processor until coarsely ground.
Place juice of the orange in a 1 cup measuring cup and add the melted butter. Fill the cup to top with boiling water.
Combine egg and dry and wet ingredients together and stir until blended.
Add chopped pecans if desired.
Bake 1 hour at 325 degrees or until a knife comes out clean when inserted into the center of the bread. Cool in pan for 10-15 minutes and then turn out on a wood rack or a towel to finish cooling.