What happens when you combine ice, rock salt, and cream? Homemade ice cream! Bring back childhood memories with this Rival Ice Cream Maker.
This Rival ice cream maker (White Mountain brand) is a very solid machine and of excellent quality with a very heavy duty motor that will keep on making batch after batch of delicious homemade ice cream.
Four quarts of ice cream is enough to feed a crowd of hungry people and still have a little bit left over.
*This post may have affiliate links, which means I may receive a small commission if you choose to purchase through links I provide (at no extra cost to you). Thank you for supporting the work I put into this site!


It looks very similar to the old fashioned hand crank machines, but now you don't have to try and find a bunch of children to turn the crank for you, as the electric motor will take care of that for you.
It is quite simple to use and makes smooth creamy ice cream. The machine is a little noisy, but the results are quite worth it. It is a win-win! No sore shoulders and great homemade ice cream.
Your entire family will enjoy making some new memories and all sitting down to have a dish of homemade ice cream together.
Read more here: White Mountain Appalachian Series Wooden Bucket Electric Ice Cream Maker, 4-Quart (PBWMIME412-SHP)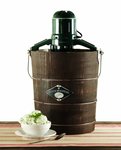 Rival Ice Cream Maker (White Mountain) Product Features
Ice cream maker machine makes up to 4 quarts of ice cream

Triple-action dasher self-adjusts to ensure uniform scraping and smooth, creamy results

12,000 RPM heavy-duty motor provides powerful churning torque

Inner canister is made from durable stainless steel

Traditional wood bucket design with convenience of electric operation

Ships in Certified Frustration-Free Packaging

Product Dimensions: 13.3 x 13.2 x 19.8 inches ; 18.2 pounds.
Still have questions? View more detail and read product reviews about this White Mountain 4-Quart Electric Ice Cream Freezer
P.S. Originally this post was written featuring a Rival Ice Cream Maker brand. In the years since, the name seems to have changed or the company was bought out. Currently there seems to be a bit of confusion as to the Rival products. The best I could find was a Wikipedia entry that explains the history of the acquisitions.
More Homemade Ice Cream Recipes
Homemade Maple Ice Cream Recipe
Homemade Vanilla Toffee Ice Cream
Homemade Peanut Butter Ice Cream Recipe
Homemade Chocolate Pudding Ice Cream Recipe
French Vanilla Ice Cream Recipe
Homemade Triple Chocolate Ice Cream
Homemade Malted Vanilla Ice Cream Recipe with Chocolate Cookie Chunks
Homemade Blueberry Ice Cream Recipe
Ice Cream Toppings and Sundae Ideas
Ice Cream Toppings and Dessert Sauces
Make Your Next Party An Ice Cream Sundae Party!
Unique Ice Cream Sundae Recipes
What Makes a Premium Dessert Topping? A Dessert Sauce and Ice Cream Topping Buying Guide
Decadent Dessert Sauces With Liqueur
Dessert Sauce Terms And Definitions
Ice Cream Recipes Cookbook
Old-Fashioned Ice Cream Recipes Cookbook
Ice Cream Maker Reviews
Cuisinart Ice Cream Maker ICE-20
Ice Cream Makers – Reviews and Recommendations
Cuisinart Ice Cream Maker ICE30BC