This homemade eggnog recipe is smooth, rich, and creamy because it is made from whole milk, cream, eggs, nutmeg, and rum. Serve for an evening Christmas Party, New Year's party, or holiday house hopping.
Not everyone is a fan of this rich, frothy drink, but for those who are, this has everything you are looking for. One of the main gripes I hear about commercial eggnog is that it is syrupy sweet and too thick. I would tend to agree with that statement as well. This recipe on the other hand is fresh tasting, creamy, and smooth.
I guess that is why I consider this a vintage recipe, as these days there are few recipes containing raw eggs. Because of this it is important to drink the eggnog within 1-2 days.
*This post may have affiliate links, which means I may receive a small commission if you choose to purchase through links I provide (at no extra cost to you). Thank you for supporting the work I put into this site!
Although made with real rum, this can also be made into a non-alcoholic version with the substitution of rum flavoring or extract.
In my opinion, this is the best homemade eggnog you will ever make! Try it yourself and see.
Fetch Rewards Referral Code: MXUXX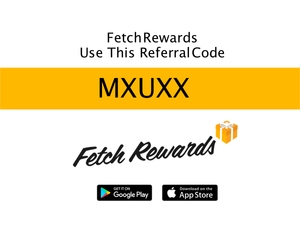 Are you ready to save money on your grocery bill and earn gift cards from your efforts? Use my
Fetch Rewards Referral Code MXUXX
and get 2,000 points. It's a free app that turns grocery receipts into rewards.
Click here to read my Fetch Rewards review on how it works.
Just scan any grocery or gasoline receipt, and earn points towards awesome rewards. You'll earn on all matched brands and products and gain access to exclusive offers that earn you even more points. No more entering codes, completing tasks or jumping through any hoops! Just scan your grocery receipt, and get rewarded.
Click here to download the FetchRewards app.
Use my Fetch Rewards Referral Code: MXUXX
You can find more money saving referral codes here:
Referral Code Master List
***Just a note though, it will only be good for a few days, so make this no earlier than the night before you want to serve it for best taste. Just stir with a whisk to incorporate the nutmeg that settles to the bottom.
Also, any eggnog is quite filling and contains a decent amount of calories (as do most things that taste good). So, when figuring how much to make, think small servings like about 6 ounces. If you will be serving food, keep the fare lighter as people will get filled up by this drink.
Comments
"As a child my grandmother used to make eggnog. I have been unable to locate a recipe because of the raw eggs, people frown upon that now days. So glad to find this, I plan on giving it a try." – Linda E. Via FB
"Actually what causes bacteria to make people sick is on the outside of the egg shell. When an egg is cracked and the egg goes past the shell it picks up the bacteria and contaminates the egg. All you have to do is wash the egg with antibacterial dish washing liquid, rinse it well, then dry it off and then crack the egg and use it. I have made eggnog for years this way and no one has ever gotten sick and I make it several times a year. It is so much better than cooked eggnog and the nasty bought stuff. I hope this helps you out! 🙂 And by the way, if you do not tell anyone it is made with raw eggs they will never know. :)" – Catina S. via FB
"It sounds amazing! I am going to make this for a brunch I have this weekend!" – Marissa P. via FB
Homemade Eggnog Recipe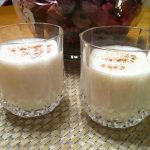 Print Recipe
Homemade Eggnog Recipe
This homemade eggnog is made from whole milk, cream, eggs, and rum. Serve this smooth, rich, and creamy drink for a Christmas party.
Ingredients
8

eggs

separated

1-1/2

cups

sugar

1-1/2

cups

light rum OR 2 Tablespoons rum flavoring

2

Tablespoons

finely ground nutmeg

the finer ground, the better

2

cups

heavy cream

6

cups

milk

Kitchen Equipment Needed
large mixing bowls

Hand Mixer

Gallon

Pitcher

Instructions
Beat the whites of 8 eggs until soft peaks form. Set aside.

Beat the yolks of 8 eggs until thick and lemon colored.

Gradually beat in sugar with the egg yolks.

Add the light rum or rum flavoring and ground nutmeg. Beat until mixed.

With a whisk or spoon, stir in 2 cups of heavy cream and all of the milk.

Add the egg white mixture to the rum mixture; fold together until blended.

Chill the eggnog until ready to serve. Stir with a whisk before serving.
An Easy Sangria Recipe For Brunch Or A Party