These heart and daisy pancake molds add a nice touch to a breakfast or brunch menu. Whether your making pancakes for family or a Valentine's Day brunch, these non-stick molds make frying pancakes fun.
Each of the heart and daisy shapes have a center cut-out that you can fill with your favorite syrup or topping. What a fun and creative way to serve pancakes.
Use these daisy and heart molds with these easy recipes like Simple Pancake Recipe For Light And Fluffy Pancakes, Chocolate Chip Pancakes, or Easy Pancake Recipe With Buttermilk.
*This post may have affiliate links, which means I may receive a small commission if you choose to purchase through links I provide (at no extra cost to you). Thank you for supporting the work I put into this site!


Amco Pancake Molds with Cut Out, Heart and Daisy, Set of 2
Read more.
Features
The molds are each approximately 6-3/8″ at the widest part. They are metal and have a non-stick coating on them to help the pancakes release easily and also make for quick clean up.
How to Use These Heart And Daisy Pancake Molds
The key to using the molds is to first lightly oil or butter the inside edges of the molds. Place them on a griddle or in a frying pan with the crossbars up. Preheat for a few minutes. Fill the molds 1/2 way up with batter.
Do not fill the molds more than 1/2 way up, about 1/4″ of batter. If you fill them fuller, your pancakes will turn out rather heavy and dense.
Set the griddle at about 300-325 degrees Fahrenheit. Let the pancake fry on the griddle until small bubbles form.
Do not try to take the mold off too early before flipping the pancake, or you will have a drippy mess on your hands. Let the pancakes cook until set up and they are relatively firm on the top.
Gently shake and tap the mold and the pancake should slide right out. Use a rubber spatula to scrape any unwanted batter away to keep the shape correct. Using a wide pancake turner, flip the pancakes and let cook until set on the second side.
When ready to serve, place on a plate and fill the center with whipped cream and top with maple syrup, blueberry sauce, cinnamon syrup, or strawberry syrup.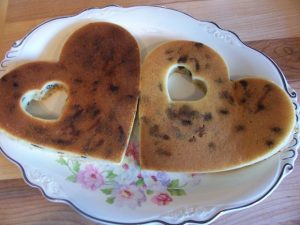 Here is a chocolate chip pancake recipe I used with these molds. I did this for a Valentine's Brunch menu and topped the pancakes with strawberry syrup and real whipped cream.
I thought the molds worked well and liked the extra flair it added to my brunch table.
Amco Pancake Molds with Cut Out, Heart and Daisy, Set of 2
More Pancake Recipes
Buttermilk Pancakes for Brunch
Pancake Toppings
Fresh Strawberry Butter Recipe