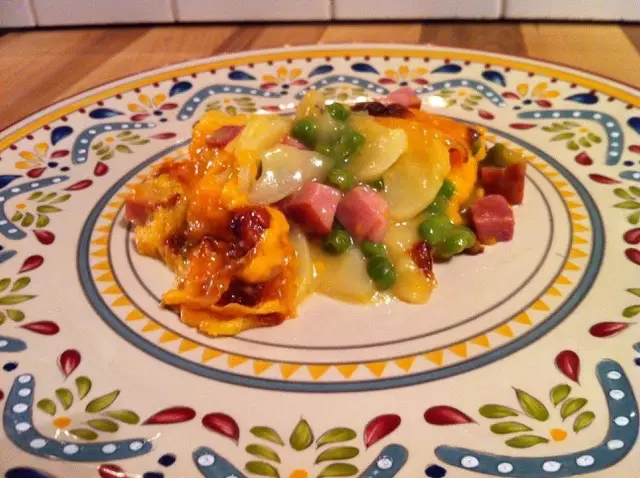 An easy recipe for creamy Au Gratin potatoes with ham, peas, and shredded cheese. This is an easy weeknight potato recipe which can be served as a main dish or a side dish.
If you are in a hurry and in need of a fairly simple recipe these scalloped potatoes will satisfy the heartiest appetites. These potatoes are a nice addition to your weeknight recipe collection.
The term 'Au Gratin' means a dish that is covered in breadcrumbs or grated cheese and browned in the oven or broiler. This recipe uses cheese and is browned in the oven.
If served as a main dish this recipe will serve about four people. If served as a side dish this recipe will serve about 6 people.
The addition of the peas and green pepper add a nice color to the dish.
Scroll down to view and print out the recipe.
I took some photos along the way as I was preparing this dish. This is what it looks like before adding the cheese:
And, of course there is plenty of cheese to go around.
This is what it looks like just out of the oven:
Dinner is served!
For the ham I used Farmland brand thick sliced ham steaks.
Serve with fish, beef, or ham for an easy weeknight dinner. You can also find more potato side dish recipes here.
Creamy Au Gratin Potatoes With Ham And Peas Recipe
Creamy Au Gratin Potatoes With Ham And Cheese
Author:
Laura Warnke - VintageCooking.com
Ingredients
1 4.7 ounce box Betty Crocker Au Gratin potatoes
Powered Sauce Packet from box of Au Gratin potatoes
2 cups boiling water
½ cup milk
2 Tablespoons Butter
2 cups cooked ham, diced into small ½" cubes (about 8-12 ounces)
1 cup canned or frozen peas
½ cup chopped onion
½ green pepper, chopped
2 cups shredded sharp cheddar cheese
Instructions
Preheat oven to 400 degrees.
Mix potatoes with the 2 cups of boiling water and the butter in a 2-1/2 quart or 3 quart oven safe glass casserole dish. Let stand 5 minutes.
Mix in the contents of the powered sauce packet and ½ cup milk.
Drain peas if canned. Partially thaw peas if frozen and drain any excess liquid.
Mix the ham, peas, onion, and green pepper in with the potatoes.
Sprinkle cheddar cheese over top and bake uncovered for 30 minutes.
Let stand 5 minutes or longer before serving so sauce can thicken a bit.
Save
Save