This colorful bell pepper quiche recipe has a combination of yellow, red, and green bell pepper, Swiss cheese, and crisp bacon. This  crustless quiche has a great flavor and adds a lot of color to your breakfast or brunch table.
Serve this quick and easy crustless quiche for a special breakfast recipe or brunch menu. The biscuit mix and egg mixture forms its own crust so you do not need to mess around with a pastry crust.
Add in some Swiss cheese and a bunch of crisply fried bacon for a quiche that will look great on the breakfast table and taste good too. This recipe also includes a bit of cayenne pepper in the recipe for added kick.
*This post may have affiliate links, which means I may receive a small commission if you choose to purchase through links I provide (at no extra cost to you). Thank you for supporting the work I put into this site!
You can also use Colby or cheddar cheese instead of the Swiss cheese for a slightly different flavor combination.
This crustless quiche recipe goes together quickly with about 45 minutes prep time.
Fetch Rewards Referral Code: MXUXX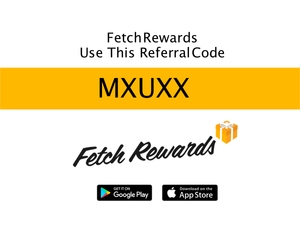 Are you ready to save money on your grocery bill and earn gift cards from your efforts? Use my
Fetch Rewards Referral Code MXUXX
and get 2,000 points. It's a free app that turns grocery receipts into rewards.
Click here to read my Fetch Rewards review on how it works.
Just scan any grocery or gasoline receipt, and earn points towards awesome rewards. You'll earn on all matched brands and products and gain access to exclusive offers that earn you even more points. No more entering codes, completing tasks or jumping through any hoops! Just scan your grocery receipt, and get rewarded.
Click here to download the FetchRewards app.
Use my Fetch Rewards Referral Code: MXUXX
You can find more money saving referral codes here:
Referral Code Master List
A single slice of bell pepper quiche with all of its wonderful colors.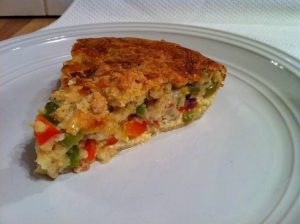 Colorful Bell Pepper Quiche Recipe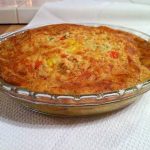 Print Recipe
Colorful Bell Pepper Quiche
A colorful quiche with a great flavor combination of peppers, bacon, and Swiss cheese.
Ingredients
6-8

slices

of bacon

(1/2 standard size package-about 1/2 pound thawed and crisply fried and crumbled)

1

cup

shredded Swiss Cheese.

You can also substitute Colby Jack or cheddar cheese

1/2

cup

red bell pepper

about 1/2 of a pepper

1/2

cup

yellow bell pepper

about 1/2 of a pepper

1/2

cup

green bell pepper

about 1/2 of a pepper

2

cups

whole milk

3/4

cup

Jiffy Baking Mix or Bisquick Baking Mix

4

eggs

2-3

pinches

of cayenne pepper

to taste

1/2

teaspoon

salt

1/4

teaspoon

pepper
Instructions
Preheat oven to 350 degrees F.

Fry bacon in a frying pan on medium-to medium-high heat until the bacon is very crisp and easy enough to crumble. Drain on paper towel and cool until you are able to handle the bacon. Using a scissor or kitchen shears, snip the bacon into small pieces.

Grate the cheese and set aside.

Peel and finely chop the red, yellow and green bell peppers and set aside on plate.

In a medium mixing bowl, use a whisk to combine the milk, biscuit mix, eggs, cayenne pepper, salt and pepper.

Grease a 9 or 10-inch glass pie plate or quiche baking dish with cooking spray or butter. Layer half of the crumbled bacon, red, yellow, and green bell pepper and the cheese evenly over the bottom of the dish. Repeat with the remaining half of bacon, peppers, and cheese.

Pour the egg and milk mixture evenly over the bacon, cheese and peppers. Make sure the liquid only comes to within 1/4" of the top edge of the baking dish.

Place in oven and bake for 60 minutes. The outside should have a lovely golden brown color and it may be slightly pulling away from the edge of the baking dish.

To test if done: Insert a knife into the center of the quiche. The center should be firm and no liquid should come out.

Let cool and set for 5-10 minutes. Cut into 6 slices and serve.
More Quiche Recipes
Crab Quiche with Swiss Cheese and Green Onion
Spinach Mushroom and Onion Quiche
Bisquick Quiche Recipe With Mushroom, Broccoli, & Swiss Cheese
Bisquick Quiche with Ham and Parmesan Cheese
Crustless Crab Quiche With Swiss And Green Onion
Save
Save