This raspberry coffee cake recipe is made with buttermilk, sugar, egg, flour and raspberry preserves. The coffeecake is then drizzled with a light lemon glaze to be served for breakfast or brunch.
Raspberry preserves in this coffeecake taste wonderful and offers a beautiful presentation for your breakfast or brunch table.
A touch of buttermilk in the recipe makes this coffee cake moist.
*This post may have affiliate links, which means I may receive a small commission if you choose to purchase through links I provide (at no extra cost to you). Thank you for supporting the work I put into this site!
Your family and guests will love this delicious, quick, and easy coffee cake recipe!
Find more coffeecake recipes like this raspberry coffee cake.
Fetch Rewards Referral Code:  MXUXX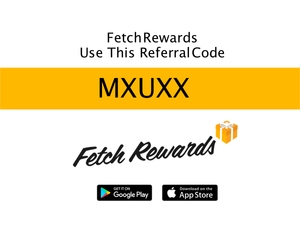 Are you ready to save money on your grocery bill and earn gift cards from your efforts? Use my Fetch Rewards Referral Code MXUXX and get 2,000 points. It's a free app that turns grocery receipts into rewards. Click here to read my Fetch Rewards review on how it works.
Just scan any grocery or gasoline receipt, and earn points towards awesome rewards. You'll earn on all matched brands and products and gain access to exclusive offers that earn you even more points.
No more entering codes, completing tasks or jumping through any hoops! Just scan your grocery receipt, and get rewarded. Click here to download the FetchRewards app.
Use my Fetch Rewards Referral Code:  MXUXX
You can find more money saving referral codes here: Referral Code Master List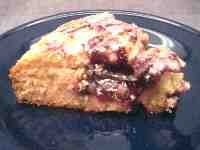 Raspberry Coffee Cake Recipe
This recipe is from my Grandmother's recipe box collection.

Raspberry Coffee Cake with Lemon Glaze
This raspberry coffee cake recipe is made with buttermilk, sugar, egg, flour and raspberry preserves. The coffeecake is drizzled with a light lemon glaze.
Ingredients
2-1/2 cups flour
½ teaspoon baking powder
½ teaspoon baking sod
¾ cup sugar
½ teaspoon salt
¾ cup butter
1 egg
¾ cup buttermilk
¾ cup raspberry preserves
--------------------------
Lemon Glaze
1-1/2 cups powdered sugar (confectioner's sugar)
½ teaspoon vanilla
Lemon Juice
--------------------------
Baking Equipment Needed
1-9" round by 2" high springform pan,
greased
1 large mixing bowl
pastry cutter (helpful, but not completely necessary)
small bowl for glaze
Instructions
Preheat oven to 350 degrees.
In a large mixing bowl, combine flour, baking powder, baking soda, sugar, and salt.
Using a pastry cutter or fork, cut in the butter until the mixture resembles course crumbs.
Make a well in the center of the course crumbs. Add the egg and buttermilk into the well. Stir gently until moistened.
Spread evenly into your greased springform pan.
Spread the raspberry preserves over the dough, leaving a 1-1/2" border.
Bake at 350 degrees for 35-40 minutes, until a toothpick inserted in center comes out clean. Cool in the pan on a baking rack.
In a small bowl, combine the powdered sugar, vanilla, and enough lemon juice to make a drizzling consistency.
Before serving, remove from the springform pan. Drizzle glaze over the coffee cake and serve.
Cut into 8-12 pie shaped slices. Serves 8-12.
Notes
Cut into 8 pie shaped slices.
More Coffee Cake Recipes
Peach Coffee Cake with Pecan Streusel Topping
Easy Coffeecake Recipe with Brown Sugar Cinnamon and Pecans
Old-Fashioned Cinnamon Sugar Coffee Cake Recipe
Buttery Vanilla Crumb Coffee Cake
Raspberry Cream Cheese Breakfast Braid With Vanilla Glaze