Rich and buttery homemade sugar cookies decorated with your choice of sprinkles and sugars. Use this recipe for any holiday and decorate accordingly.
Well, the Christmas baking is in full swing for me. So far this season I have made peanut butter cookies and these sugar cookies. I have plans for at least 2-3 more types of cookies and a rum cake, but I guess we will see how many actually get baked this weekend.
I consider this one of my favorite vintage cookie recipes, as this recipe has been in our family for quite a few generations.
*This post may have affiliate links, which means I may receive a small commission if you choose to purchase through links I provide (at no extra cost to you). Thank you for supporting the work I put into this site!


So, just how much buttery goodness can you stand? These sugar cookies have all of that and more. I think this is one of the most requested year round recipes I make when it comes to sweets.
One of the things I like best about these cookies is that they turn out consistently good each time I make them. Also, I make these for other holidays too, including Valentine's day and Easter. All I do is change up the color of the sugar sprinkles to match the holiday.
A Sugar Cookie Situation
I made these last Sunday and was informed on Thursday by my 11-year old son that we had a "situation". He proceeded to inform me that the sugar cookie level was getting dire and that I needed to make more this weekend. He felt the rate of consumption was exceeding the time frame that I wanted to have some of these cookies in the house. So, he might be right on this and I may have to make another batch of them before Christmas. 🙂
Sugar Cookie Technique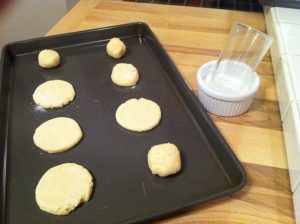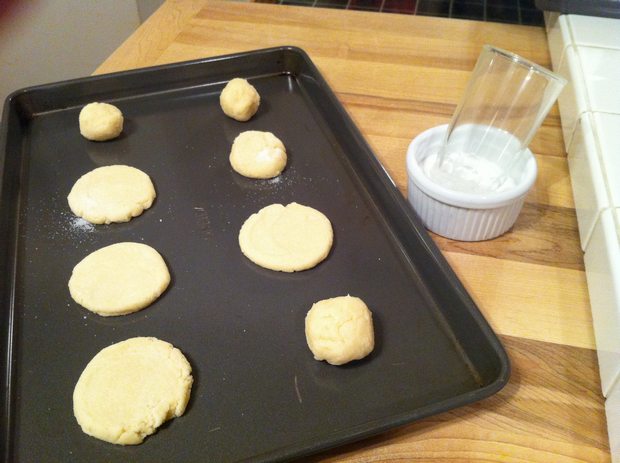 I am also including a second photo of my "technique" for getting the cookies to turn out consistently round. I use the bottom of a juice glass dipped in a small dish of sugar and press each of the balls of dough flat. This allows you to have a flat surface to place your sprinkles.
Also, If you are using specialty decorations on your cookie that are larger in size, you may need to gently press them into place with your fingers so they stay on the cookie and keep from falling off onto the baking sheet.
If you find your dough is too soft, you can refrigerate the dough in between pans of cookies.
Share and Save This Recipe On Pinterest!
Homemade Sugar Cookies Recipe
Homemade Sugar Cookies
Rich and buttery homemade sugar cookies ready to be decorated with your choice of sprinkles and sugars. Use this recipe for any holiday and decorate accordingly.
Author:
Laura Warnke - VintageCooking.com
Serves:
Makes 4 dozen cookies
Ingredients
1 cup butter, softened
1-1/2 cups granulated sugar
2 eggs
1 teaspoon vanilla
1-2 Tablespoons milk or cream
2-1/2 cups all-purpose flour
1 teaspoon salt
½ teaspoon baking powder
Instructions
Preheat oven to 375 degrees.
In a large mixing bowl using a wooden spatula, cream the softened butter until light and fluffy.
Beat in the sugar until smooth.
Add in the eggs and beat together until smooth and golden yellow in color.
Stir in the vanilla and and 1 Tablespoon milk or cream and beat thoroughly.
In a separate bowl, sift together the flour, salt, and baking powder.
Add the flour mixture into the butter mixture and blend well.
If the dough is too stiff, add an additional tablespoon of milk and mix again.
If the dough is too soft, refrigerate for 15 minutes before baking.
Use a spoon to scoop up teaspoons of dough and roll them into 1" balls. Place each on a baking sheet evenly spaced apart.
Place about ¼ cup of granulated sugar in a small dish. Using a small juice glass wet the bottom of the glass, dip the glass in sugar, and gently flatten each cookie.
Decorate with colored sugars and sprinkles as you would like.
Bake for about 6-7 minutes until just browned around the outside edge. Do not overbake.
Remove and cool on a wire baking rack.
Notes
For Rolled Cookies: Add about ½ cup additional flour to make the dough stiff enough to roll out. Chill one hour or more. Roll dough ¼" thick and cut out your shapes.
More Holiday Cookie Recipes
Homemade Peanut Butter Cookies
Puppy Chow Snack With Chocolate And Peanut Butter
Easy Praline Graham Crackers Recipe