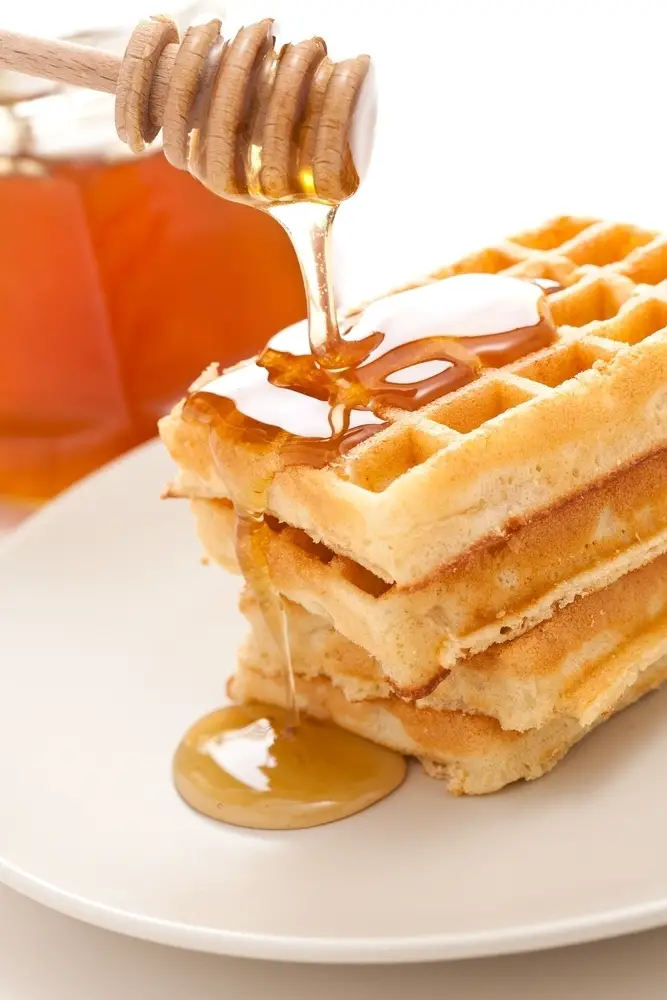 A Belgian waffle recipe made with buttermilk, cinnamon, and brown sugar. Serve these Belgian waffles for breakfast and brunch topped with warm maple syrup, real whipped cream and an extra dash of cinnamon on top. You can also find more waffle recipes like these Belgian waffles here.
This waffle recipe is just a bit different than the traditional, as it uses brown sugar instead of the standard white granulated sugar. The result is a richer tasting waffle with a hint of cinnamon in it.
If you need an alternative topping to maple syrup, try honey drizzled on top. You can also try these recipes for whipped strawberry butter or homemade blueberry sauce.
Brown Sugar Belgian Waffle Recipe
Brown Sugar Belgian Waffle Recipe
Author:
Laura Warnke - VintageCooking.com
Ingredients
2 cups flour
¼ cup light brown sugar
1 teaspoon baking soda
1½ teaspoon baking powder
½ teaspoon cinnamon
½ teaspoon salt
3 eggs
2 cups buttermilk
8 Tablespoons butter, melted and cooled
1 teaspoon vanilla
Instructions
Preheat waffle maker according to the manufacturer's directions.
In a large mixing bowl, sift together the flour, brown sugar, baking soda, and baking powder, cinnamon and salt. Set aside.
Separate 3 eggs. Save the egg whites in a separate bowl for later.
To the yolks add buttermilk, butter, and 1 teaspoon vanilla. Whisk together.
Pour into dry ingredients and mix.
In your separate mixing bowl whip 3 egg whites until fluffy (stiff but not dry) and fold into the waffle batter.
Bake these Belgian waffles in your waffle iron by pouring in ladles of the batter and frying until golden brown.
Notes
This Belgian waffle recipe makes about 10-12 waffles.

Find out how to store and reheat leftover waffles.

Serve these waffles with butter, maple syrup, and a dusting of powdered sugar.
More Waffle Recipes
Cinnamon Apple Waffles
Grandma's Waffle Recipe
Dessert Waffles
Sour Cream Belgian Waffles
Waffle Making Tips
How to freeze and reheat waffles.
Waffle making tips and techniques
Save
Save
Save
Save
Save