Downloadable Digital Cookbook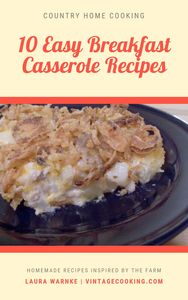 Behold the breakfast casserole! A beautiful combination of a complete breakfast all in one easy to serve dish. What could be a better answer to feeding hungry guests?
My name is Laura and I am a mom, wife, and Midwest cook that enjoys sharing many of my family's favorite comfort food recipes. I grew up on a farm in Wisconsin and love to bring that farm-style home cooking to your table.
My aim with this downloadable cookbook is to bring you great tasting farm-style breakfast and brunch casserole recipes that you can incorporate into your own family meals. When I search for a new recipe, I look for easy to follow recipes using basic ingredients that turn out good, each and every time.
Enjoy this collection of 10 easy breakfast and brunch casserole recipes that can be made-ahead the night before.
I have included a variety of recipes using bread, hash browns, cereal, and rice.
All of these recipes use real cheese, sour cream, butter, and milk. This Wisconsin girl would never use anything else. You can of course substitute as necessary due to dietary needs.
So, just what is comfort food? I guess that is slightly different for everyone, but for me comfort food represents a feeling of home, family and soul. Comfort food is the glue that holds a family together. I think the comfort part is a feeling of safety and security combined with good memories of the past. I believe the heart and soul of the family starts in the kitchen.
Let these recipes come to the rescue when you…
are short on time
want new recipes to add to your rotation
have weekend guests
need a quick breakfast ready to go ahead of time
need a tried and true family dinner recipe
want to use basic ingredients you already have on hand
What's Included?
A  26-page digital cookbook featuring the following 10 recipes…
Italian Sausage Brunch Casserole with Rice Krispies
Make-Ahead Breakfast Casserole with Bacon and Swiss Cheese
Hearty Breakfast Casserole with Sausage, Cheese, and Hash Browns
Easy Breakfast Casserole With Ham And Cheese
Overnight Breakfast Casserole With Hash Browns, Bacon, and Ham
Wisconsin Brunch Casserole with Ham and Mushrooms
Roast Beef Hash Quiche
Triple Cheese Potato Casserole with Hash Brown Patties
Ham and Cheese Breakfast Casserole with Broccoli
Ham and Egg Breakfast Casserole with Crushed Corn Flakes
Bonus:  Breakfast Casserole Tips and FAQ's
10 Easy Breakfast Casserole Recipes
Downloadable Digital Cookbook
Grab your copy now! Just $5.00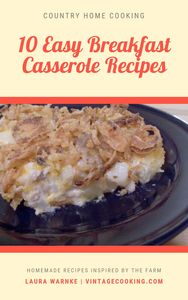 This 26-page e-cookbook is available in Adobe Acrobat PDF format.
Immediately upon purchase your product will be delivered via email containing a secure digital download .pdf file.
$5.00
Sorry, this product is not available on hard disc or paper copy at this time.
Refund Information:  Due to the digital nature of this product, no refunds are offered.