The Waring Pro Double Belgian Waffle Maker WMK 600 is a professional waffle maker for the home cook. If you want to serve the best Belgian waffles in the neighborhood, try this model.
Make Restaurant Quality Waffles At Home
Finally a professional quality waffle maker for the home cook. Aside from the ease of use, this professional waffle maker by Waring produces a true Belgian waffle that has deep wells to hold lots of maple syrup, yet still fluffy and crispy in texture. These waffles turn out just like what you would order from a restaurant.
This small appliance is one you will be happy to make room for in your cupboard, as it cooks the waffles quickly.
*This post may have affiliate links, which means I may receive a small commission if you choose to purchase through links I provide (at no extra cost to you). Thank you for supporting the work I put into this site!


If you are feeding several people around your brunch or breakfast table, you won't keep them waiting and everyone can have hot waffles at the same time. This waffle maker makes two waffles at once.
Product Features for Waring Pro WMK600 Double Belgian Waffle Maker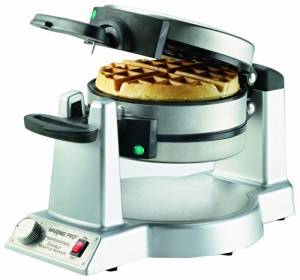 It has a cradle-like stand and comes with a rotating attached handle that you turn as your waffle bakes. This allows the batter to drop from side to side so it puffs up evenly on both sides as it browns all over.
Extra-Deep 1-inch waffle pockets.
Makes 2 round Belgian Waffles at a time.
A basic On and Off toggle switch.
A knob to adjust the browning.
Two LED indicator lights that tell you when the power is on and when your waffle has finished baking.
Three audio beep tones indicate when the waffle maker is ready to operate and when the waffle is finished baking.
It has a brushed stainless steel housing and a brushed, die-cast base.
Nonstick coated waffle grids easily release waffles and make cleaning effortless
Recipes and instructions included.
Priced at under a hundred dollars it is a good value for the machine.
For the most up to date technical specifications, click here.
Waring Waffle Maker Frequently Asked Questions
Will it produce a crisp waffle? Yes, there is a setting that allows you to control how long the waffle browns, so you can adjust the crispness of the waffle.
Will my waffles stick? Not if you use the right kind of oil to lubricate the pockets. It is recommended to use a canola based oil instead of butter or a butter type spray like Pam cooking spray. Butter type sprays will leave a sticky residue and cause release issues after repeated use.
Can I bake just one waffle at a time? Yes! Even though this machine makes two waffles at a time, you can only bake one at a time and it will turn out just fine.
Want to know what others are saying about this product before you buy? Have another question? Read more reviews of this waffle iron here: Waring WMK600 Double Belgian Waffle Maker.
Old-Fashioned Waffle Recipes
Cinnamon Apple Waffles For Brunch
Homemade Dessert Waffles Recipe
Brown Sugar Belgian Waffle Recipe
Waffle Helps, Tips and How-To's
Waffle Maker Buying Guide – What To Ask Yourself First
How To Make Waffles For A Large Group
How to Reheat Leftover Waffles
Waffle Making Tips and Techniques
Save
Save
Save
Save
Save