Scrambled Egg Breakfast Pizza Recipe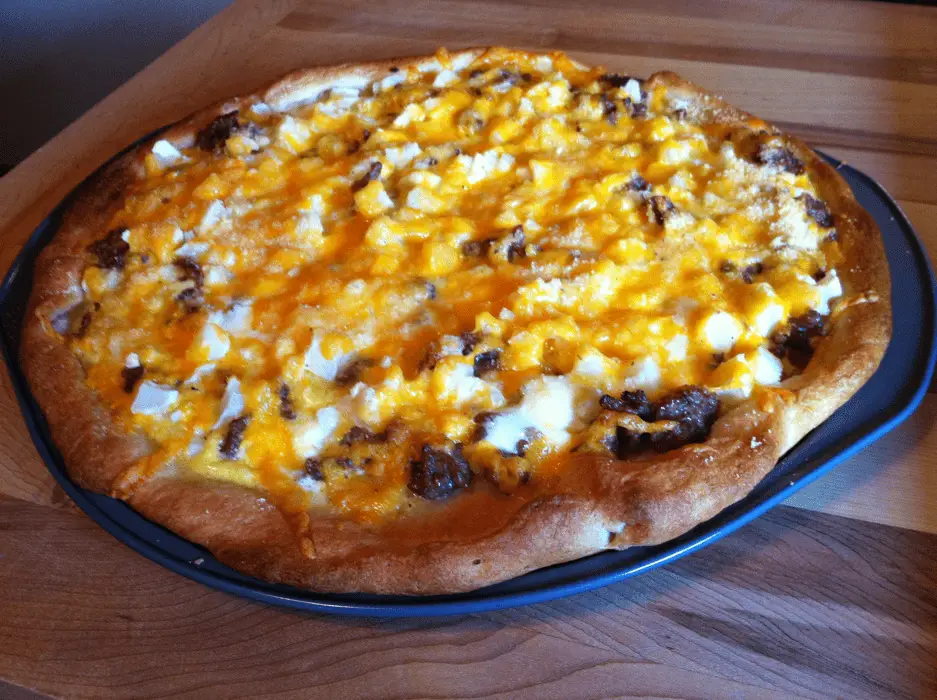 Author:
Laura Warnke - VintageCooking.com
2 cans (4 ounces) refrigerated crescent rolls OR 1 can (13.8 oz) refrigerated classic pizza crust
½ pound bulk pork sausage or 4 pork sausage links, sliced
1 cup frozen shredded has brown potatoes, thawed
2 Tablespoons diced sweet red bell pepper
2 Tablespoons diced sweet green bell pepper
1 cup shredded cheddar cheese
4 eggs
3-4 Tablespoons milk
⅛ teaspoon black pepper
1 Tablespoon shredded Parmesan cheese
Preheat oven to 375 degrees.
Separate crescent dough into four triangles. arrange on an ungreased12" round pizza pan, with the points toward the center. Press onto the bottom of the pan, building up the outside edges slightly. Seal any perforations with a fork or your fingers.
In a small skillet, cook the sausage over medium heat until no longer pink. Drain any excess fat and let the sausage cool slightly.
Sprinkle the sausage over the crust. Top with shredded hash brown potatoes, bell peppers, and shredded cheddar cheese.
In a small bowl, whisk the eggs, milk, and pepper. Pour over pizza. Sprinkle with Parmesan cheese.
Bake at 375 degrees for 20-25 minutes or until eggs are completely set and the top is golden brown.
Cut into slices and serve.
Recipe by
Vintage Cooking
at https://www.vintagecooking.com/scrambled-egg-breakfast-pizza/