Homemade Apple Crisp Recipe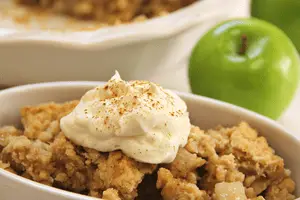 Author:
Laura Warnke - VintageCooking.com
½ cup soft butter
1 cup instant cooking oatmeal
1 cup brown sugar
1-1/2 cup flour
½ teaspoon cinnamon
6 apples, peeled, cored and sliced
2 Tablespoons white granulated sugar
½ teaspoon cinnamon
Preheat oven to 350 degrees.
Spray a 9" x 13" glass baking dish with vegetable cooking spray.
In a medium mixing bowl, combine the softened butter, oatmeal, brown sugar, flour, and cinnamon. Mix until crumbly and evenly distributed with a fork or pastry cutter. Set aside.
Peel, core, and slice the apples in a mixing bowl.
Toss with the granulated sugar and ½ teaspoon cinnamon.
Place the apples evenly in the glass baking dish.
Evenly sprinkle the oatmeal mixture on top of the apples and pat in place.
Bake uncovered in oven for about 35-40 minutes, until golden brown and sides are bubbling.
Serve warm with ice cream or whipped topping.
Drizzle with caramel sauce on top of this homemade apple crisp recipe for added decadence.
Recipe by
Vintage Cooking
at https://www.vintagecooking.com/homemade-apple-crisp-recipe/