Blueberry Cream Cheese Muffins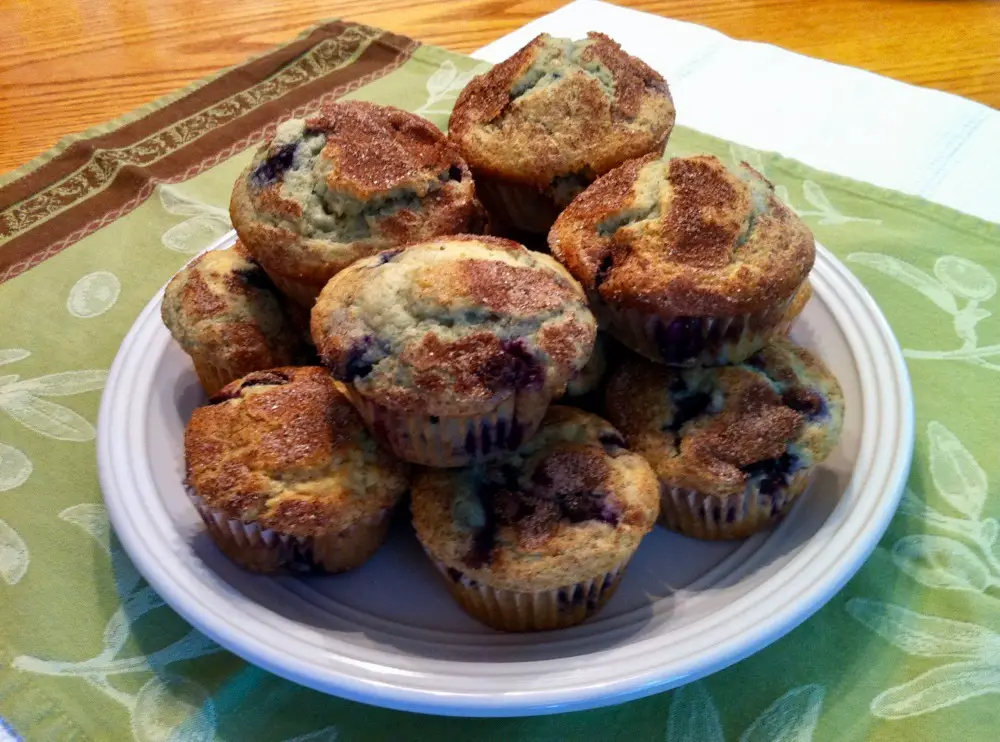 Author:
Laura Warnke - VintageCooking.com
4 oz. softened cream cheese
1 Tablespoon of fresh lemon juice
2 Teaspoons of vanilla extract
2 eggs
1 cup heavy cream (can also use whole milk)
4 Tablespoons butter, melted
2 cups flour
¾-cup of granulated sugar
1-1/2 teaspoons of baking powder
½ teaspoon of baking soda
½ teaspoon salt
1-1/4 cup blueberries, drained (fresh or frozen)
Sugar Topping Mixture:
2-1/2 Tablespoons of sugar
1 teaspoon of cinnamon
Your oven should be preheated to 350 degrees.
Line muffin tins with 16-18 cupcake liners or grease and flour the muffins tins and put aside.
In a mixer bowl, beat the softened cream cheese along with the vanilla and fresh lemon juice until it is smooth and there are no lumps.
Beat in each of the eggs one at a time.
Mix in the heavy cream and butter and stir until well blended.
In a separate bowl, combine the five dry ingredients. Sift together.
Beat the dry ingredients into the cream cheese and carefully fold in the blueberries.
Ladle the batter equally into the muffin tins, each about 75% full.
Sprinkle the tops of the muffins with the sugar mixture.
Bake for 25-30 minutes until the muffins are lightly golden brown.
Place on a wire rack to cool slightly before serving.
Makes 16-18 blueberry muffins.
Recipe by
Vintage Cooking
at https://www.vintagecooking.com/blueberry-cream-cheese-muffins/