Fruit Kabobs with Marshmallow Fruit Dip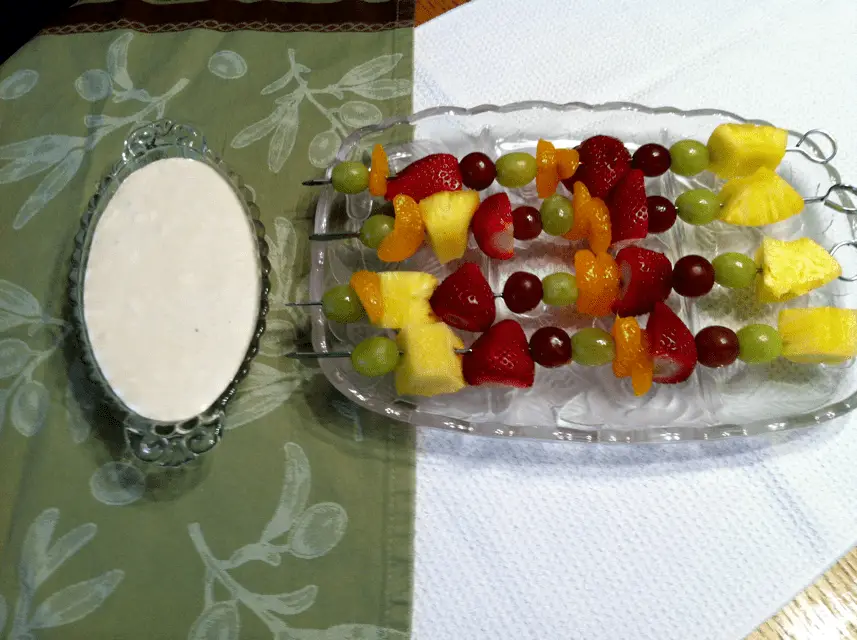 Author:
Laura Warnke - VintageCooking.com
24 fresh strawberries
24 seedless grapes
24 fresh pineapple chunks
24 mandarin orange slices
Marshmallow Creme Fruit Dip:
½ cup mayonnaise
½ cup marshmallow creme
2 teaspoons finely chopped or grated orange rind
1 teaspoon ginger
Kitchen Equipment Needed
12-8" metal or wooden skewers
Wash and pat dry the strawberries and grapes. Drain the oranges. Cut pineapple into 1" chunks.
Thread fruit onto 12-8" skewers. Chill on a flat plate in refrigerator.
In a medium mixing bowl, combine the mayonnaise, marshmallow creme, orange rind and ginger.
Serve in individual serving bowls per person as a dip with the kabobs.
Recipe by
Vintage Cooking
at https://www.vintagecooking.com/fruit-kabobs-with-marshmallow-fruit-dip/