Peach Coffee Cake with Pecan Streusel Topping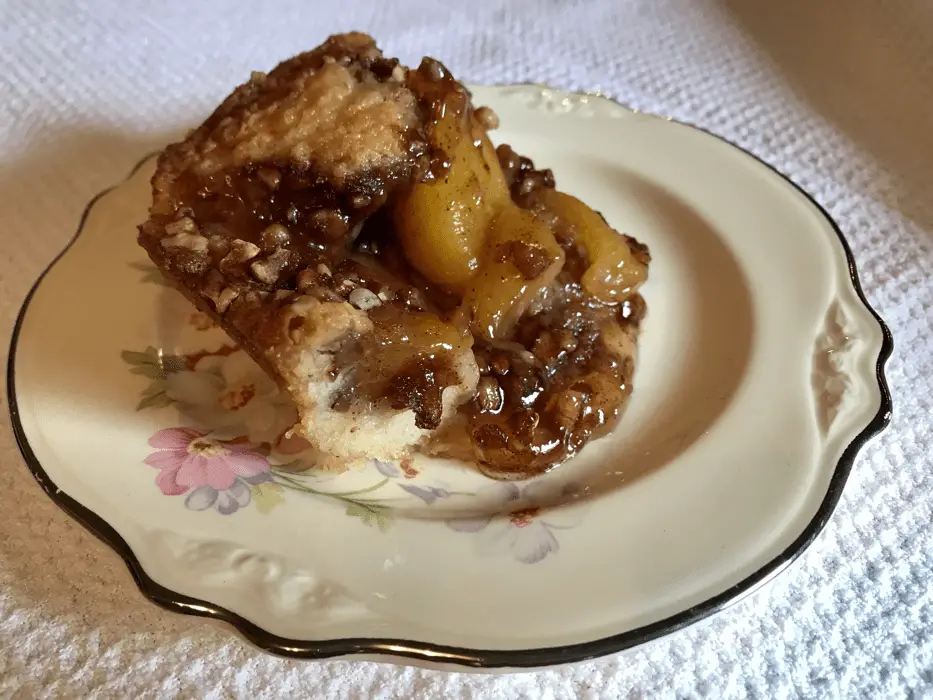 Author:
Laura Warnke - VintageCooking.com
1 cup flour
1 cup sugar
1 teaspoon baking powder
¾ teaspoon salt
½ cup milk
2 egg whites
2 Tablespoons melted butter
1 teaspoon vanilla
1- 21 ounce can peach pie filling
½ cup firmly packed brown sugar
1 teaspoon cinnamon
½ cup finely ground pecans
Preheat oven to 350 degrees. Grease and flour a 9" x 9" pan. You may also use a 7" x 11" pan.
Sift the dry ingredients together in a large bowl.
Add milk, egg whites, butter and vanilla. Beat using a whisk for 2-3 minutes, until smooth.
Pour batter into greased pan.
Sprinkle ½ of the Streusel topping mixture on top of the batter.
Carefully spoon the peach pie filling over the top of the batter, distributing evenly to cover the batter.
Sprinkle the remaining Streusel topping mixture on top of the peach pie filling.
Bake for 45-55 minutes. Let cool completely before cutting.
Makes 6-9 servings.

Please do not cut down the amount of salt too much in this recipe - perhaps to ½ teaspoon if you wish. The salt is necessary to balance the sweetness of the pie filling and sugar.
Recipe by
Vintage Cooking
at https://www.vintagecooking.com/peach-coffee-cake/