Fruit Cocktail Coffee Cake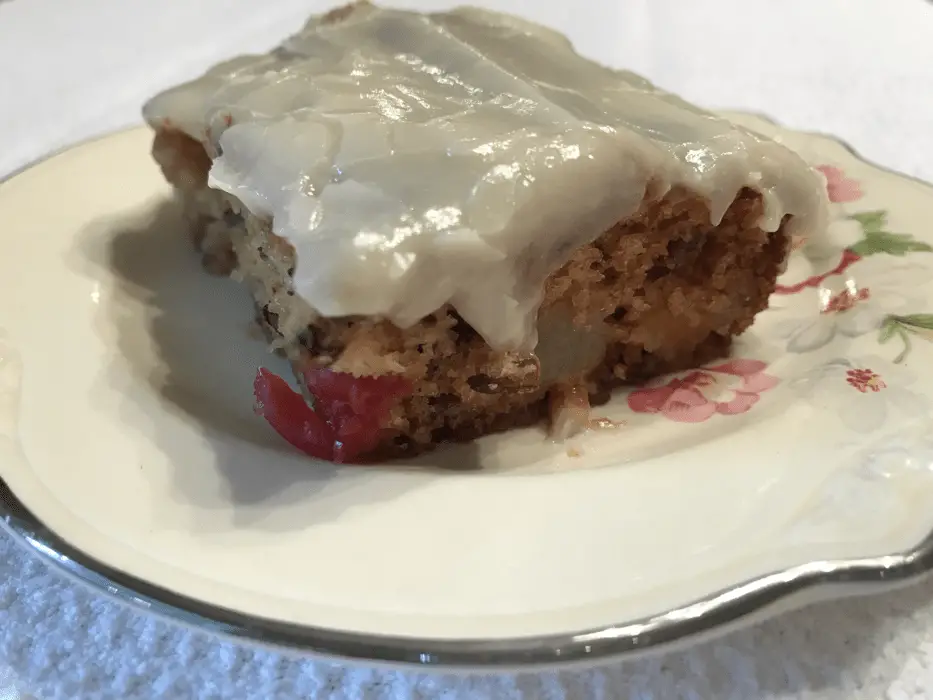 Author:
Laura Warnke - VintageCooking.com
1 Cup flour
¾ teaspoon baking soda
1 Cup sugar
1 Egg
1 teaspoon vanilla
1 small can (8-3/4 oz.) fruit cocktail
¼ Cup chopped or ground nuts, optional
¼ cup butter, softened
1 pkg. (3 ounces) cream cheese, softened
1 Cup powdered sugar (confectioner's sugar)
½ teaspoon vanilla extract
Preheat oven to 350 degrees.
Grease and flour an 8" x 8" x 2" glass baking dish or spray with a non-stick cooking spray.
Sift together flour, baking soda, and sugar in a small bowl.
Combine the egg, vanilla, and fruit cocktail with juice in a separate bowl. Stir well.
Add the flour mixture to the creamed mixture and mix.
Fold in the chopped nuts.
Pour the batter into the prepared glass baking dish. Bake for 30-35 minutes, until golden brown.
While baking, prepare the cream cheese frosting. With an electric hand mixer, blend the butter, cream cheese, powdered sugar, and vanilla together until smooth.
Let the coffee cake sit for 10 minutes or so and then frost the cake while still warm.
Recipe by
Vintage Cooking
at https://www.vintagecooking.com/fruit-cocktail-coffee-cake/