Crab Stuffed Deviled Eggs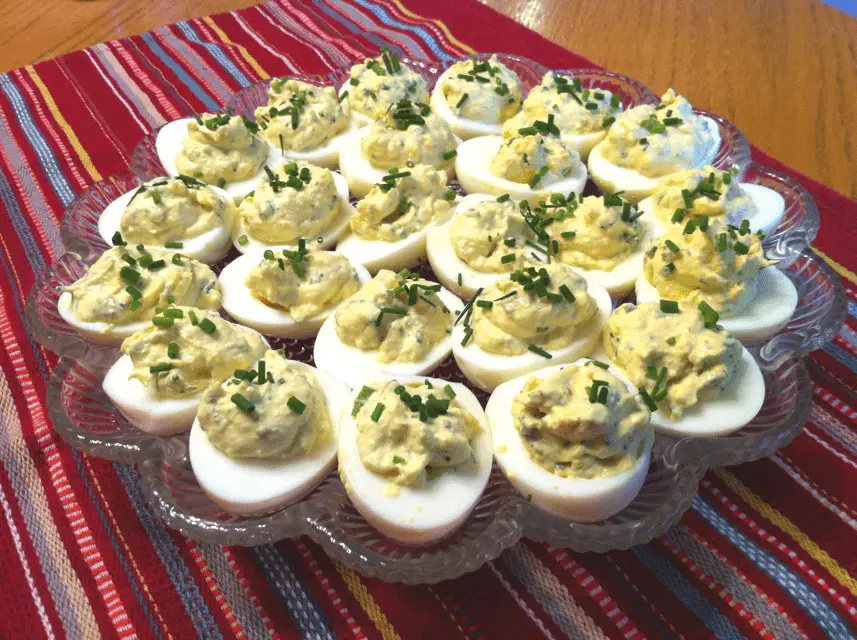 Author:
Laura Warnke - VintageCooking.com
12 hard cooked eggs
1 (7-1/2 ounce) can crab meat, drained and flaked
3 Tablespoons finely snipped chives
1 Tablespoon parsley flakes
½ cup to ¾ cup mayonnaise
½ teaspoon salt
Hard cook the eggs per your usual method. Chill them and peel the shells.
Cut eggs in halves lengthwise and place the yolks in a separate medium sized bowl.
Rinse and drain the crab meat in a fine mesh strainer. Be sure to use a large spoon to push out any excess moisture from the crab meat. Do this a couple of times. Do not skip this step or your egg mixture will turn out mushy and runny.
Mash the egg yolks with the well-drained and flaked crab meat, chives, parsley, mayonnaise, and salt.
Using a small teaspoon, place the crab meat mixture into each of the eggs.
Sprinkle with additional chives for added color (optional).
Cover and chill until ready to serve.
Makes 12 servings (24 pieces).

You can substitute ¼ cup green onions instead of the chives, but you need to chop them very fine and may want to use a bit less. Chives have a mellower onion flavor than green onions and I think they work better with crab meat as they are not as overpowering. It depends on your personal taste.
Recipe by
Vintage Cooking
at https://www.vintagecooking.com/crab-stuffed-deviled-eggs/