Stuffed French Toast Recipe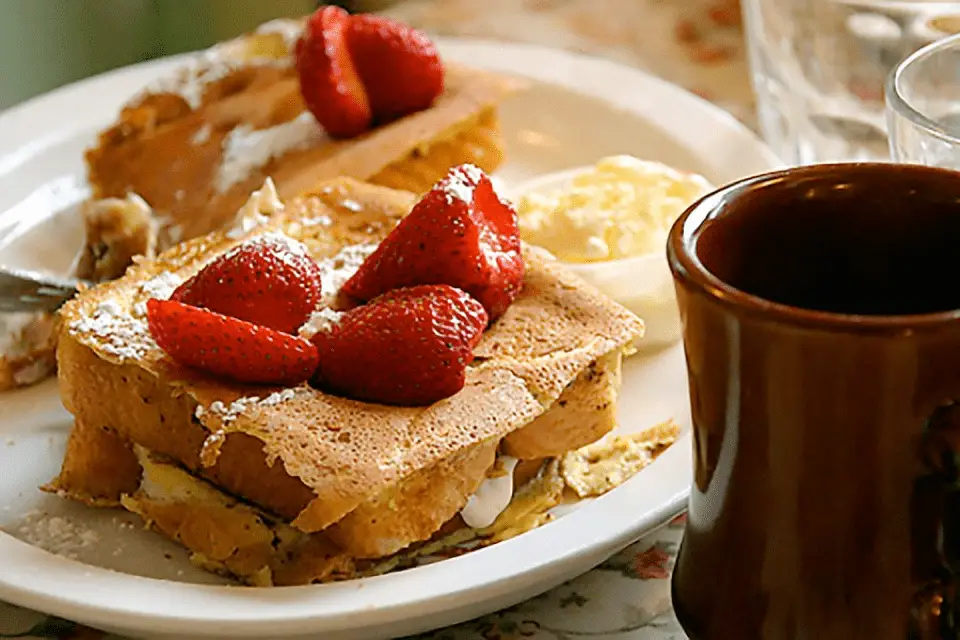 Author:
Laura Warnke - VintageCooking.com
2 cups fresh mixed berries
¼ cup granulated sugar
------------------------------
⅔ cup low-fat ricotta cheese
¼ cup strawberry jam
------------------------------
3 large eggs
⅔ cup evaporated milk
2-3 tablespoons brown sugar, packed
1-1/2 teaspoons vanilla extract
½ teaspoon almond extract
------------------------------
12 slices French bread or Texas toast (1/2" to ¾" thick)
1 tablespoon vegetable oil, butter or margarine
Kitchen Equipment Needed
2 small mixing bowls
1 shallow bowl or pie plate
Griddle for frying
Combine berries and sugar in small bowl, set aside.
Combine ricotta cheese and strawberry preserves in another small bowl and mix well.
Combine the eggs, milk, brown sugar, and vanilla in a deep-dish pie plate or shallow bowl and mix well.
Spread ricotta preserve mixture evenly over 6 slices of bread.
Top with remaining slices of bread to form a sandwich. Press the outer edges together slightly with a fork to keep the filling in place.
Heat a small amount of oil in a large frying pan or griddle over medium heat. Dip each sandwich in the egg mixture, turning to coat both sides.
Cook each side about 2 minutes till golden brown.
Serve this stuffed French toast with butter, maple syrup, a spoonful of the sugared berries, and a dusting of powdered sugar (confectioners sugar).
For the mixed berries, try any combination of sliced strawberries, raspberries, blueberries, or blackberries.

This recipe makes 6 servings.
Recipe by
Vintage Cooking
at https://www.vintagecooking.com/stuffed-french-toast/