Homemade Blueberry Ice Cream Recipe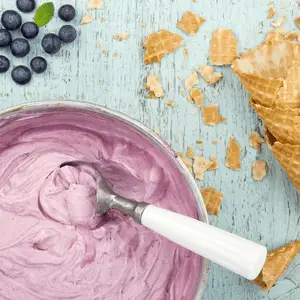 Author:
Laura Warnke - VintageCooking.com
2 pints fresh blueberries
1 cup granulated sugar
2 cups heavy whipping cream, lightly whipped
1 cup evaporated milk
⅛ teaspoon salt
1 teaspoon vanilla
Mash the blueberries and cook with granulated sugar on medium heat, stirring constantly for 5 minutes. Press berries through a sieve and discard the skins. Cool the berry liquid to room temperature.
Using an electric hand mixer, whip the whipping cream just until some body is created. Do not whip until stiff.
Add salt, lightly whipped cream, evaporated milk, and vanilla to the berries.
Put the the blueberry liquid in the freezer for two hours to chill.
Churn in a 4-Quart Electric Ice Cream Freezer according to manufacturers directions. Freeze until almost solid and enjoy.
Makes about 6 cups of ice cream.

***If using frozen blueberries, thaw them completely first and then proceed with the instructions.
Recipe by
Vintage Cooking
at https://www.vintagecooking.com/homemade-blueberry-ice-cream-recipe/