This Cuisinart Ice Cream Maker ICE-20 1-1/2 quart is the perfect size for family time homemade ice cream. A freezable bowl makes homemade ice cream easy.
This fun ice cream maker is convenient to use and easy to clean at a great low price. All electric operation means there is no need for ice or salt. Instead you use a freezable bowl (included) that you just keep frozen in your freezer until you are ready to make your ice cream.
You can also purchase additional freezer bowls separately if you want to make ice cream more frequently.
*This post may have affiliate links, which means I may receive a small commission if you choose to purchase through links I provide (at no extra cost to you). Thank you for supporting the work I put into this site!


Making your own homemade ice cream means you can customize the ingredients in the ice cream. Make your favorite flavors like chocolate, chocolate chip and more!
Operation of the machine is simple, relatively inexpensive, and produces excellent results.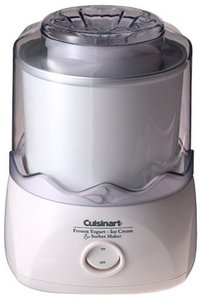 Cuisinart Ice Cream Maker Product Features:
Cuisinart ICE-20 Automatic 1-1/2-Quart Ice-Cream Maker, White
Makes up to 1-1/2 quarts ice cream, frozen yogurt, sorbet, or frozen drinks. It is a breeze to use and fully automatic-no salt or ice needed. Just place all ingredients into the bowl and turn on the machine.
A double insulated freezer maintains an even temperature for consistent smooth and creamy results.
A heavy duty motor churns your ice cream, sorbet, or sherbet in about 20-30 minutes without ice.
A large spout for ingredients makes it easy and les messy to add chocolate chips, fruit, and other add-ins. You can also watch it work with the transparent lid.
Clean up is simple: Just rinse the freezer bowl right after you are finished and wash with a mild detergent. Let it dry and put it back into the freezer. All other parts of the Cuisinart ice cream maker are removable and the base wipes down with a damp cloth.
Recipe booklet included; cord storage.
Measures 10 by 15 inches and weighs about 9-1/2 pounds. It comes with a three-year limited warranty.
Just click on the link below to read customer reviews and purchase this Cuisinart Ice Cream Machine.
Cuisinart ICE-20 Automatic 1-1/2-Quart Ice-Cream Maker, White
Also check out this model of ice cream maker, a 2-quart version
More Homemade Ice Cream Recipes
Homemade Maple Ice Cream Recipe
Homemade Vanilla Toffee Ice Cream
Homemade Peanut Butter Ice Cream Recipe
Homemade Chocolate Pudding Ice Cream Recipe
French Vanilla Ice Cream Recipe
Homemade Triple Chocolate Ice Cream
Homemade Malted Vanilla Ice Cream Recipe with Chocolate Cookie Chunks
Homemade Blueberry Ice Cream Recipe
Ice Cream Toppings and Sundae Ideas
Ice Cream Toppings and Dessert Sauces
Make Your Next Party An Ice Cream Sundae Party!
Unique Ice Cream Sundae Recipes
What Makes a Premium Dessert Topping? A Dessert Sauce and Ice Cream Topping Buying Guide
Decadent Dessert Sauces With Liqueur
Dessert Sauce Terms And Definitions
Ice Cream Recipes Cookbook
Old-Fashioned Ice Cream Recipes Cookbook
Ice Cream Maker Reviews
Ice Cream Makers – Reviews and Recommendations
Cuisinart Ice Cream Maker ICE30BC